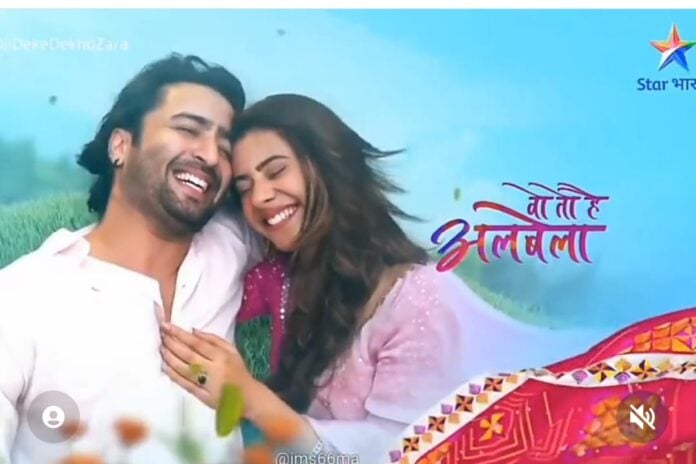 Woh Toh Hai Albela Upcoming Story, Spoilers, Latest Gossip, Future Story, Latest News and Upcoming Twist, on Justhowbiz.net

Episode begins with Rashmi saying I love you so much, I can't see you in that phase, I am with you do whatever I want, just think before doing anything. Rashmi goes to prepare food and smirks. Kanha is on stairs and calls Yash. Kanha asks for update so Yash says I am infront of Vikrant's house and keeping an eye on him as soon as he comes out I will follow him. Kanha says thanks brother, I don't know what would I have done without you. Yash says you are calling me brother and saying this as well?
Kanha smiles and cuts the call. Nakul hears this and thinks what if Yash fills my place in Kanha's life and I don't have any place, I need to do something. At breakfast, Nakul sits beside Kanha. Everyone gets happy and praise the brothers. Dad asks Nakul about some client and meetings with them. Nakul says I have kept them on hold as I want to discuss things with bhai as he has handled international clients. Kanha gets happy and emotional hearing this. Saroj gets happy while Rashmi gets upset. Nakul asks Kanha when can we discuss? Kanha says whenever you say, there are just few things and I am sure you will be able to handle it. Nakul smiles.
Rashmi says Kanha I finally found the girl and would love to make you meet her. Kanha says day after tomorrow sounds good. Rashmi says great. Here, Sayuri wakes up and sees the house decorated by Vikrant. Vikrant asks Sayuri to get ready. Sayuri says yes, I am so excited as it's our first pre wedding ritual so I am happy but you said you will go to see Mithu.
Vikrant says yes I will after this decoration, don't worry. Sayuri says thanks. Sayuri pretends to be happy and excited for wedding day to make Vikrant happy. Here, Yash informs Kanha that he saw Vikrant go out so he is going to follow him. Kanha asks him to do one more favour. Kuku cries so Sayuri tries to calm her and thinks what is behind that door which makes Kuku cry and panic, I wish somehow I can go up hiding from the cameras. Suddenly the light goes off. Sayuri thinks what happened to the light, she thinks to go and check. Kanha is about to get in his car when Vidya reaches and Rashmi introduces her to Kanha.
Rashmi says I got to know Vidya is nearby so thought to make her meet you today only, so I didn't want to delay. Kanha says but I didn't know of this so I have kept some of my meetings. Rashmi says if it's work related, Nakul will handle, please stay. Kanha says it's not office related, it's about his vlog. Kanha apologizes to Vidya and she says it's okay. Kanha leaves. Rashmi thinks I know it's not related to any work, he is just avoiding it and I feel something is cooking up I hope he is not going to meet that girl and is it really Sayuri? I need to do something.
Sayuri thinks the fuse is also okay then what can it be? Should I call Vikrant and suddenly she notices the cameras not working so she thinks this is the perfect opportunity to look behind that door. Kanha reaches there and asks Yash to inform him if Vikrant comes back home as he is going inside to meet Sayuri. Yash asks him to go ahead and talk to Sayuri as Vikrant is in the clinic. Vikrant is going through many files and customers when Baa asks him to come and check Mithu as no medicine is working on her. Baa says if something will happen to her then Sayuri will leave him and he can go to jail.
Vikrant gets upset and says Sayuri has started loving me so no one can snatch her away from me, she is mine, you have already used this excuse multiple times not anymore. Vikrant then notices that he is unable to access the cameras and worries. Here, Sayuri breaks the lock and goes inside to see a girl's huge picture and then she stumbles on a chair on which the dead body of the girl is kept. She panics and runs out of the room. Kanha holds her and calms her down. Kanha asks her the matter when Sayuri points to the camera. Kanha says they are not working, I have cut the wires. Kanha asks her why she is pretending to be someone else and not telling him anything. Sayuri gets thinking if she should say anything to Kanha.
Episode ends.
Precap – Sayuri worries for Mithu while her mehendi function starts. Kanha and Yash reach Ba and lie to her that Vikrant sent them. Kanha holds the baby and feels a connection.
Click to read
Woh Toh Hai Albela 25th January 2023 Written Update: Sayuri gets a clue to reach to Mithu!