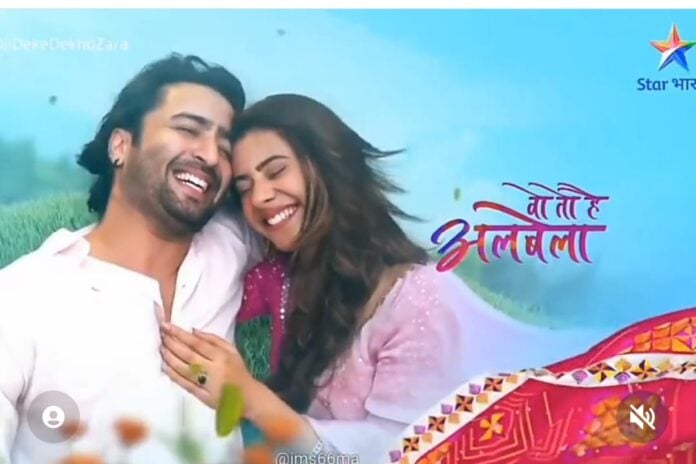 Woh Toh Hai Albela Upcoming Story, Spoilers, Latest Gossip, Future Story, Latest News and Upcoming Twist, on Justhowbiz.net

Episode begins with Sayuri getting a phone call from Vikrant asking about light and CCTV not working. Sayuri says the light went off and I was checking fuse. Vikrant says I have already filed a complaint and they will fix it. Sayuri says okay. Suddenly the light comes back and CCTV gets back on, Sayuri worries and sees Kanha gone. Kuku shows how he went out of window. Sayuri thanks Vikrant and asks him if he went to the baby? Vikrant says not yet but soon I will. Kanha informs Yash about the situation. Rashmi spots Kanha from far and thinks why did he come here and not visit that lady, is it really Sayuri or Kanha came for something else, I need to find out. Yash asks Kanha not to worry we will execute again. Yash sees Vikrant go somewhere so he starts following.
Vikrant sees a car behind him and thinks if it is following him. Vikrant slows down so Yash thinks Vikrant's can't get suspicious so Yash overtakes Vikrant and tries to follow him through the rear view mirror. Vikrant gets relieved that no one is following him. Kanha comes back home and Saroj says great you came back lets plan your meet with Vidya. Kanha says what's the hurry I will meet and decide just give me time. Bua also agrees with him.
Nakul comes and says Kanha should get time as there is not one girl available for him and he is so difficult to handle. Nakul smiles. Kanha holds his ears. They both share a light moment and Saroj gets happy to see them like old times. Kanha gets a call so he goes while Saroj thanks Nakul for listening to her. Kanha gets to know from Yash that he lost Vikrant. Suddenly Vikrant comes and Yash stammers. Kanha is on call and hears it all. Vikrant asks Yash what is he doing here? Yash says I had a client call, I just finished it. Vikrant says okay, I also had come to visit some of my patients. Yash says are you following me?
Vikrant says why will I follow you? I thought you are following me. Yash says it's nothing like that. Vikrant leaves. Vikrant informs Baa that he won't be able to come as he found something worrisome. So when Baa insists, Vikrant says he will send some doctors to check Mithu. Yash says to Kanha that we got saved this time. Yash says how Vikrant was on the same route yesterday when he realised about the shoes thing and went back there must be some clue here leading us to something. Kanha says okay so you look for the patient and who Vikrant came to meet, I am on my way to your location.
Here, Sayuri is feeding Kuku and thinks if the woman and dead body was of Kuku's mom and if she is aware about this. Sayuri feels disgusted about Vikrant. Sayuri makes some rice fall on Kuku and then takes her inside the kitchen to clean her and then asks Kuku calmly if the drawing was of her mom? Kuku gets emotional and nods yes. Sayuri hugs her and asks her not to worry as she will rescue her both away from Vikrant. Sayuri thinks if Vikrant can do this to Kuku then how will he take care of my baby, I need to do something fast.
Rashmi sees two mehendi girls talk about some money issue for mehendi function of Sayuri so Rashmi says I willl give you guys money but in return I want a work done. They agree. Sayuri sits worried and feels sick when Kuku offers her water but she doesn't drink. Sayuri just prays to god to help her rescue from Vikrant. Here, Yash finds the house with the help of a beggar. Yash and Kanha go inside and Baa asks who are they. Yash says Vikrant. Baa says oh so you guys are the doctors he sent? Actually his patient, a baby is really sick. Kanha goes inside and feels a connection with Mithu and holds her. Sayuri feels god is with Mithu and gets an intuition that Mithu is safe.
Episode ends.
Precap – Sayuri denies to drink water or eat. Vikrant worries for her so he decides to video call Baa while Kanha is holding the baby.
Click to read
Woh Toh Hai Albela 26th January 2023 Written Update: Sayuri gets to know a big dark secret of Vikrant!