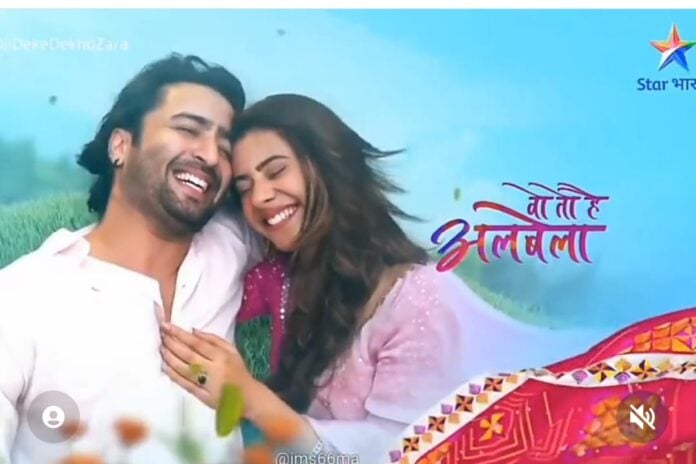 Woh Toh Hai Albela Upcoming Story, Spoilers, Latest Gossip, Future Story, Latest News and Upcoming Twist, on Justhowbiz.net

Episode begins with Baa saying how the fever is not going down from last 3 days, I have been giving medicines. Kanha says can you show me the medicines? Baa goes. Kanha calls his family doctor and asks for advice on this matter. Kanha cuts the call seeing Baa come. Kanha sees the medicine and says these are high power medicines so I need to put cloth on baby's head.
Kanha thinks I am meeting this baby for the first time but it feels like I have connection with her. Here, the mehendi girls come to Sayuri. Rashmi also comes. Sayuri says I remember you, we met in the temple. Rashmi says yes you remember me, actually these are my mehendi artists so I came to see the client. Sayuri says sure come inside. Sayuri thinks why is Rashmi here? Baa asks Yash if he is a doctor too. Yash says yes, the doctor is very experienced, you don't worry the baby will get better.
Here, Rashmi asks for the bride. Sayuri says I am the bride. Rashmi says but you are already married right? And you have a kid right? Sayuri says yes but we wanted to remarry. Sayuri goes to get water. Rashmi thinks this is definitely not Sayuri as she will never marry anyone else other than Kanha but then why is Kanha after her? Sayuri panics in the kitchen and calms herself to not let Rashmi affect her. Sayuri gets water. Kanha says the fever is down. Yash asks Baa about where are the parents? Baa says they died in a car accident, I am her grandma. Baa thanks Kanha and takes the medicine list from him.
Rashmi sees the photo frame of Sayuri, Vikrant and Kuku. Rashmi tries talking to Kuku asking her if Sayuri is really her mother. Kuku doesn't say anything. Vikrant comes there and asks Rashmi to stay away from Kuku and focus on mehendi. Rashmi says we are ready and are waiting for the bride. Vikrant says I am going to bring her.
Vikrant goes inside and sees Sayuri faint when Sayuri says I can't drink water as I said I won't take any water or food until I see Mithu. Vikrant says I went to meet her and she is fine. Sayuri says I want to see the baby. Vikrant says first do the mehendi function. Sayuri says I won't do any function or ritual till the time I don't see my baby. Vikrant says okay.
Yash is with Baa when Vikrant video calls Baa. Baa says it's Vikrant come here. Yash worries and bends down to tie his laces. Vikrant asks Baa to show the baby. Baa goes inside and turns the camera. Due to darkness Kanha's face is not visible but a figure of a person holding the baby is. Vikrant asks who is he? Baa says the doctor you sent, he us really good now Mithu has no fever. Vikrant says okay show me the baby from the front. Yash signals Kanha so he puts the baby on bed and escapes.
Sayuri says oh my baby. Kanha hears this and tells Yash that the voice is similar. Yash says we will figure it out later let's go before we get caught. They leave. Vikrant asks Baa to show the doctors. Baa says they left. Vikrant says I sent only one. Baa says one was a helper. Vikrant sees Sayuri not well so he cuts the call. Yash and Kanha are outside where Kanha shares how he felt a connection with the baby. Yash says maybe it's because she was sick and so cute.
Kanha thinks it's something else but don't know what. Here, Rashmi thinks it's been so long Sayuri has not come what if she is planning the revenge. Rashmi thinks to go inside and sees but fears Vikrant. When time passes by, Rashmi gets determined to go inside and check. Vikrant makes glucose water for Sayuri when Sayuri says you lied to me that you went to meet Mithu, I did so much for you and always followed you still you lied and could not keep my one word is it because you don't care about Mithu much as she is my daughter? Vikrant says I sent pediatrician to see the baby and I got busy with some urgent cases, I know you are marrying me which is a huge thing for me as well, thank you. Sayuri looks on.
Episode ends.
Precap – Baa informs Vikrant about another doctor coming. Rashmi gets upset seeing Kanha and Nakul spend good time together. Vikrant gets angry on Sayuri.
Click to read
Woh Toh Hai Albela 27th January 2023 Written Update: Sayuri learns a shocking truth about Kuku!