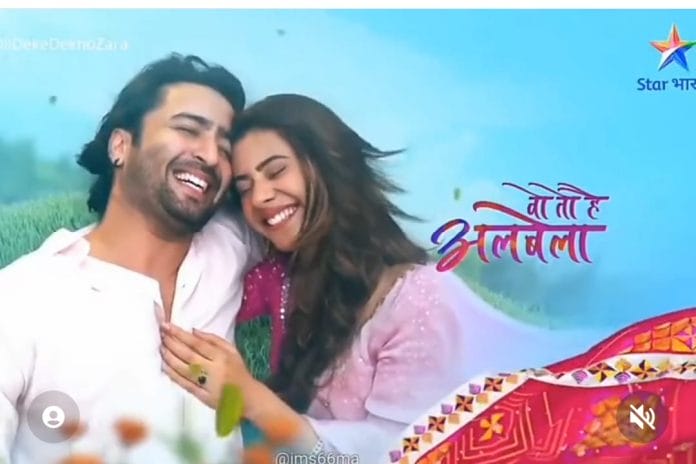 Woh Toh Hai Albela Upcoming Story, Spoilers, Latest Gossip, Future Story, Latest News and Upcoming Twist, on Justhowbiz.net

The episode starts with Kanha saying that they have to load the tiles in the truck but Sayuri says that the tiles arey all damaged. Kanha gets shocked hearing it and asks how's it possible. Saron who's listening to it all gets scared and Sayuri recalls Saroj's change after hearing that I good news. She blames it on herself and says it was her fault.
Kanha gets scared about their reputation when he gets a call. He gets elated with the news and happily informs Sayuri that Mr. Jatin is out of station and will be back only after a week. He says that they have one week time to get the tiles ready. Sayuri gets happy while Saroj also gets relieved hearing it. They sigh in relief. Saroj brings juice for Sayuri and blesses her while Sayuri gets emotional recalling her saying that she would never bless her ever. She felt extremely happy. Her happiness gets doubled when Saroj gives her permission to call her as mother.
Indrani and Dadi were making ladoos. Rashmi asks them to give the ladoo to her as she's going to the house and will deliver it. Dadi asks her not to worry as Saroj would have definitely got her enough sweets to feed Sayuri. Indrani asks Rashmi to not keep visiting the house as she's not married there yet.
She says that they need to take slow steps as there's still a long way to go between engagement ring and mangalsutra. She says it could be a trouble for Sayuri. Rashmi gets furious and accuses them for worrying only about Sayuri. Dadi warns her to speak with her mother with respect. Rashmi reminds Dadi that it's her who should know her limits with her mother and listen to her. Rashmi creates a scene.
Dhanraj and Tej were discussing about the baby when Kanha comes there. They understand his condition without him informing them as they all went through that phase. He says that they were scared to express the fear but they have the option to express it. Kanha shares it with them.
Rashmi blames Indrani and Dadi that they just worry about only Sayuri and leaves angrily. Sayuri also joins them when Saroj comes speaking on phone with someone. He says that the new guests has brought happiness to the house as Gayatri is bringing her son to have a look at Kusum. Everyone gets worried when Dhanraj asks her to meet with him once and they won't proceed until she says yes for the alliance. Kusum agrees.
Sayuri to tries to talk about Kusum's studies but Saroj diverts the topic. Rashmi comes there when Saroj calls Sayuri daughter in law and feeds her sweet. Sayuri refuses but ate forcefully feeds her. Rashmi gets jealous seeing it and gets even more shocked hearing her call Saroj mother. Her insecurity grows.
At kitchen Kusum is working with Rashmi when Sayuri comes there. She asks her to take care of her study material for college the next day while she will take care of the cooking. Rashi gives the difficult jobs to Sayuri and Sayuri agrees to do it. Saroj comes there and scolds Rashmi for escaping from household work. She asks her to do it and asks Sayuri to do the simple works. Sayuri apologizes Rashmi when Rashmi blames her for taking Saroj to her side after Kanha.
Precap : Kanha will gift a cute pregnancy outfit for Sayuri. Kanha and Sayuri will be about to go to college when Saroj will stop her saying that she won't go to college shocking Sayuri.
The episode starts with Kanha saying that she didn't fell unconscious due to stress. He says that she's going to become a mother and everyone gets elated. They all rejoice when Kanha hugs Saroj and says that she's going to become grandmother. Saroj doesn't react while Everyone watches worried. Sayuri comes down and Kanha hugs her saying thanks and congratulations. Others do the same.
Later she too looks at Saroj and cries. Kanha asks what happened and Sayuri says that she thinks she thought Saroj would be happy when she hears about the news but she didn't even smile. She asks whether her child will get the same hate as her.
Saroj comes towards but moves away and Sayuri gets disheartened. They suddenly hears plate tapping sound and finds Saroj comes in Ghungat tapping the plate with spoon and every one gets surprised seeing her. Saroj opens he arms towards Sayuri and everyone gets elated. Sayuri cries and steps towards her and hugs her.
Sayuri says that her grandchild took away all the hatred she had for her. She says that she always thought she took her precious things away from her but today she gave her something more expensive. She says that she forgot all the hatred and apologizes her. Sayuri says her not to say so and wishes to start a new beginning. She hugs them and goes to Indrani and Nani and holds hands in front of them too. They all dance and enjoy.
Click to read
Woh Toh Hai Albela 27th September 2022 Written Update: Dhanraj gets suspicious of Saroj's actions.