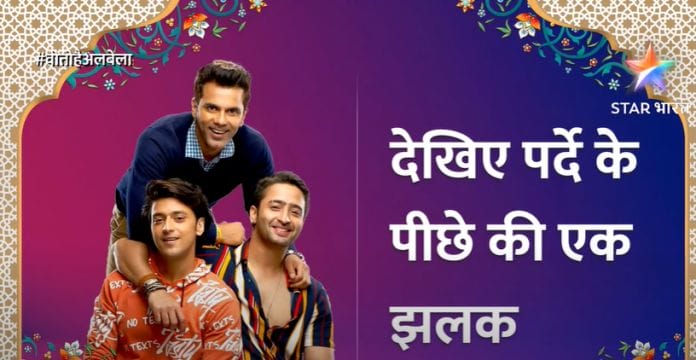 Woh Toh Hai Albela Upcoming Story, Spoilers, Latest Gossip, Future Story, Latest News and Upcoming Twist, on Justhowbiz.net
At the beginning of the episode Sayuri asks Chiru to ask Kanha to stay away from her. Because this job is very important for her. Kanha says why is she talking to his brother, if she wants to talk then do it to him. Sayuri says that she has explained him many times but he is not understanding her point. Kanha says that he doesn't care about her tears. Chiru says that but he feels sad to see Sayuri sad.
Saroj is about to come to Chiru but then a call comes. She attends the call. Here Sayuri tells Chiru that Kanha has sworn that he will not let her live in peace. She adds that Kanha repeatedly taunts her that she has trapped him. She wants Chiru to tell Kanha that they both love each other and she hasn't trapped him. Here Saroj is coming towards Chiru.
Kanha says that he will never let her and Chiru unite. Chiru gets upset with his words and asks him to shut up. But Kanha does not calm down. Chiru gets angry and slaps him. Kanha gets shocked. He looks at Sayuri angrily. He thinks that he will not leave Sayuri. He was leaving from there. He further collides with Saroj. Saroj sees tears in his eyes and asks what happened.
Kanha imagines that he has told everything to Saroj and Saroj tells Chiru to break up with Sayuri. Chiru does the same. Just then Chiru comes there and his imagination breaks. Chiru informs Saroj that he has scolded Kanha because he has started troubling people a lot these days. Kanha gets angry and starts leaving from there. Chiru tries to stop him while Saroj says that she will take care of him.
Nakul further sees that Kanha is very angry. He thinks that he should talk to Chiru. But he sees that Chiru is also upset. Here Kanha decides that he will no longer bother Sayuri but will become a problem for her. Dhanraj sees that Saroj is upset. He asks her what happened. Saroj says that there is a fight between Kanha and Chiru. Nakul comes there.
Dhanraj asks Nakul what happened between Kanha and Chiru. Nakul says that he does not know anything about this. Dhanraj asks him not to lie. Kanha comes there and says that he was in the room only. Saroj says that when she saw in the room, Kanha was not in there. Kusum says that Kanha is definitely hiding something from them. Saroj prays to God that everything will be fine soon. Further Chiru comes to the temple to meet Sayuri.
Precap: Kanha locks Sayuri and Chiru in the temple. While Rashmi gets worried about Sayuri.
Click to read
Woh Toh Hai Albela 28th March 2022 Written Update: Kanha bothers Sayuri