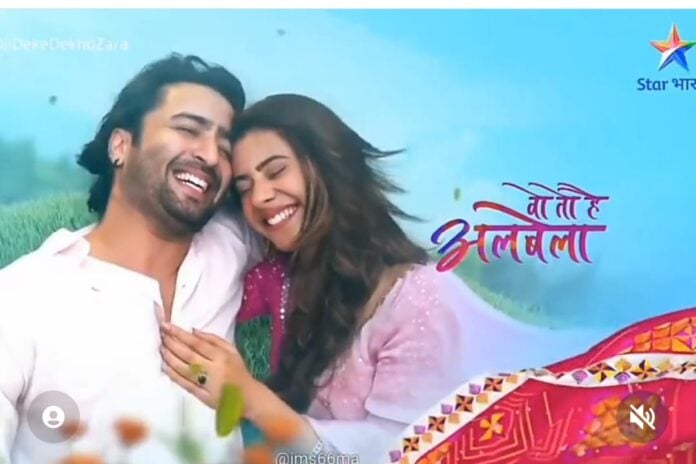 Woh Toh Hai Albela Upcoming Story, Spoilers, Latest Gossip, Future Story, Latest News and Upcoming Twist, on Justhowbiz.net

Episode begins with Vikrant saying I am so thankful so just trust me and drink this. Sayuri says you better take care of my daughter or else I will have no other reason to stay with you. Rashmi hears this. Sayuri brings lemonade for her. Rashmi takes it and drinks. Sayuri says you haven't changed a bit Rashmi in last 1 year, now I am back and now it's revenge time. Rashmi fears and says didi you are back? I am your sister please forgive me. Sayuri says I was your sister too when you tried to kill me. Sayuri indicates how she added something to her drink. Rashmi starts coughing and panicking. It turns out to be her dream.
Sayuri comes with lemonades in real but Rashmi doesn't take. Sayuri says why are you sweating? Rashmi days we were waiting for you for mehendi. Sayuri goes with her for mehendi. Here, Saroj tells Kanha how kids are arranging republic day festival and they asked for you and Nakul. Nakul comes and says we will go for sure as Kanha will never break kids' heart. Kanha says yes. Nakul says remember when we used to arrange these functions? Kanha says it used to be so much fun. Saroj says it's good to see you both remember your childhood like this. Nakul suddenly remembers Rashmi being so late so he calls and messages her.
Here, Sayuri is putting mehendi and she thinks I selected this design as I want my mehendi to always have Kanha's name and this has picture of you Kanha ji, I can't write this Vikrant's name at all. Rashmi sees her and thinks it can't be Sayuri or else she would have come back and taken revenge. Rashmi then asks Sayuri that as you are remarrying for love so you will write your husband's name. Vikrant comes and says Sachi loves me so much and she wanted to do this ritual according to rules so she will write it. Sayuri panics about what to do. Sayuri says yes, you write it. Mehendi girl is about to write in left hand when Sayuri says no not in left but in right. Mehendi girl says right hand has no space for name. Sayuri says I can't write on left as it affects the relationship in bad way so you write the first letter of Vikrant on my right hand.
Vikrant gets happy while Rashmi thinks it's clear that these both are husband and wife from long time. Sayuri thinks this is not V from Vikrant but V for victory, I will soon rescue myself and two girls from this monster. Rashmi sees Nakul's message and thinks to leave. Rashmi says I have more places to go so I have to go. Vikrant says but the function is remaining. Sayuri says these girls will complete the mehendi and Rashmi should leave as she has work. Vikrant agrees. Sayuri thinks you can go for now Rashmi but soon you will have to payback too.
Vikrant gets a call from Baa who tells her there is another man saying he is the doctor sent by you. Vikrant says how can it be. Vikrant talks to him and gets to know he is the doctor whom he sent so he asks Baa who were the previous two. Baa says I don't know, I thought you sent them so I didn't ask them any names. Vikrant gets irritated. Sayuri sees Vikrant from far and wonders what is wrong. Vikrant asks Baa to explain how did they look? Baa explains him and Vikrant remembers seeing Yash. Vikrant says those were people from Sachi's past who are not listening to me and still following me, now I will teach them a lesson. Baa says did Sachi sent them? Vikrant says no Sachi can't as she also doesn't know the location still I will ask her, you be careful. The mehendi ritual is over and the girls leave.
Here, Kanha comes to have water near dinning table when he hears noises from below. Kanha sees Nakul eat laddu sitting under the dinning table. Kanha says come up and eat. Nakul says no it's more fun eating it here, chupke chupke remember how in childhood we used to hide from Maa and sit here to eat laddu as all laddus at one place and this republic day special laddu were really special. Kanha says you are right, I will also join you. They both start eating laddu and laugh together. Saroj sees them from far and smiles thanking god.
Sayuri's mom and dadi also come and get happy seeing them. Rashmi enters the house and bends to pick some paper from floor when she is shocked to see Nakul and Kanha together enjoying. She feels angry and thinks I was out for just sometime and what happened here that these two got so close? Vikrant asks Kuku to go inside and draw as he needs to talk to Sachi. Kuku fears and goes inside. Vikrant calls Sachi an oversmart woman whom he underestimated.
Episode ends.
Precap – Kanha thinks about what trouble Sayuri is going through. Here, Sayuri thinks to close the door when Vikrant is also on his way to that door. So, Sayuri calls out for Vikrant to stop him.
Click to read
Woh Toh Hai Albela 28th January 2023 Written Update: Rashmi gets doubtful about Sayuri and Vikrant's relationship!