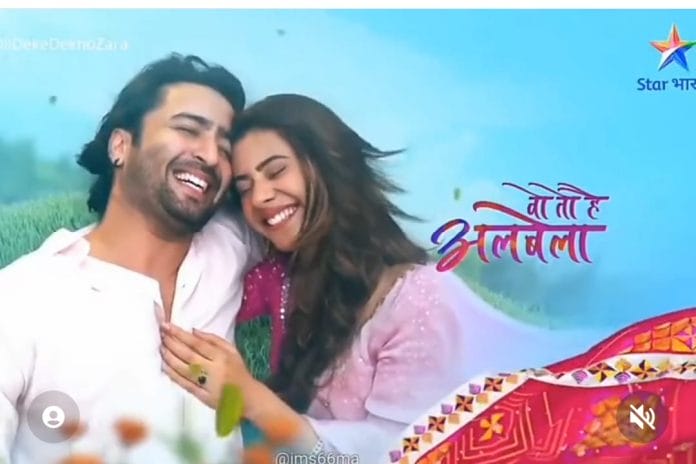 Woh Toh Hai Albela Upcoming Story, Spoilers, Latest Gossip, Future Story, Latest News and Upcoming Twist, on Justhowbiz.net
The episode starts with Sayuri asking Vikranth what wrong did she do. Vikranth's accuses Sayuri for ruining the power cut to get her ex husband to meet her. He abuses her badly. Dadi Mausi scolds Nakul and Vikranth for acting childish. She makes them come out and holds their ears.
Nakul says that it's Kanha who asked him to eat ladoos under the table. Kanha chases after him for lying. Rashmi fumes seeing them so happy together and Dadi Mausi notices it. She asks her if she's not happy with their union. Rashmi asks why wouldn't she and says that she's just surprised that how it all happened. Dadi Mausi didn't believe her. On the other hand, Vikranth manhandled Sayuri accusing her for bringing her husband to the house and sending him to find her baby. Sayuri shouts that she didn't do any such thing as really wanted to marry him. She even promises on her child.
Saroj asks Nakul and Kanha that whether they will make just have fun like childhood or will they make arrangements too. Nakul says that he would go with Rashmin to make arrangements for it and Kanha asks if he could do in such a short notice. Nakul says he will be manage. Rashmi says that she's again losing her time with Nakul and promises to not let it happen. She decides to try from the start again.
Dadi Mausi is sure that something is cooking in Rashmi's mind. She thinks that though she might not know what is in her mind, she's sure that it's something related to Kanha and Nakul's reunion. She swears to not let her win and prays God to let them be united forever. Vikranth calms down as soon as Sayuri swears on her baby and is sure that she won't swear fake promise on her baby. However he's not ready to leave Kanha for again crossing the limit. Sayuri thinks that she can't afford to offend Vikranth as he's really dangerous. She wonders how to expose him and escape from him. She gets reminded that she didn't lock the store room and wonders how to lock it with CCTV on.
Nakul is happily sleeping in bed when Rashmi comes there. Nakul tries to romance with her as he is in happy mood after reconciling with Kanha. He's happy that everything is going back to normal. Rashmi says that she don't want things to go back normal. She reminds him that Kanha disrespected him a lot and didn't value him enough which is the reason for the ur wedge. She wishes that it doesn't happen again and he gets to have his deserved respect.
Nakul again gets confused when Rashmi asks him not to prioritise his love over his self respect. She comes out and hears Indrani and Dadi happy that Kanha and Nakul reconciled. Rashmi acts like she was also happy and credits it for Vidya. She says that Kanha moved on and is trying to live happily again. Kanha wonders what's stopping Sayuri and wonders who's the baby. He couldn't get her off his mind and wants to adopt a child like her after rescuing Sayuri. Sayuri searches for Vikranth everywhere and finds him going towards store room. She stops him saying that she has a surprise for him.
Precap : Kanha will be on his way to bring back Sayuri. He will bump with Sayuri on road with the baby. Kanha will say Sayuri that he's coming in search of her. Sayuri will say that she was also coming to him only.
Click to read
Woh Toh Hai Albela 30th January 2023 Written Update: Rashmi gets a death threat from Sayuri!