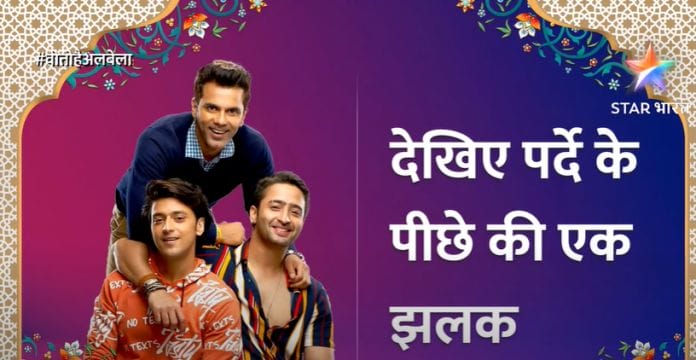 Woh Toh Hai Albela Upcoming Story, Spoilers, Latest Gossip, Future Story, Latest News and Upcoming Twist, on Justhowbiz.net

The episode starts with Sayuri in cab and recalls Kanha's words. Kanha also recalls Sayuri's words. Anjali comes to Sayuri's House and everyone gets shocked seeing her. Anjali greets them and says that she came to greet them as they are really close to Kanha.
Priya gets angry and taunts Anjali. Anjali says that she's getting married to Kanha shocking everyone. Kanha says that he knows that Sayuri loves him and he won't accept defeat so easily. He says people lose something only when the accept their defeat ahd he's not a quitter.
Anjali says the family that they look shocked and asks if they have no idea about what happened at house. She's about to say it but Dadi stops her saying that she they don't want to hear anything and asks her to leave. Anjali still insists and says that she's going to break Sayuri's marriage. Indrani and others gets angry at Anjali.
Anjali asks why are they getting so much hyper as she's there really cool even after Sayuri doing the same with her. They say that it's because Sayuri is married to Kanha and they both love each other. Anjali says that it doesn't make much difference as Sayuri doesn't love Kanha and none in the family loves Sayuri too. She says that after her marriage with Kanha she will definitely find a boy for Sayuri as she has friends from many places.
Indrani asks her to find one for herself as Kanha loves Sayuri truly and it's the truth. Anjali says that Saroj already accepted her and even gave place in Kanha's room. Rashmi says that she and Kanha are only friends and Kanha would never accept her love. She warns her to come out of her dreamland.
Anjali gets angry at her words and holds her hand shocking everyone. She asks if she's challenging her and Rashmi says yes. Anjali warns her to not challenge her as she loves challenges. She challenges that she would get married to Kanha and warns Sayuri to not create an issue in their marriage.
Sayuri comes there and shouts Anjali's name. She asks Anjali to leave Rashmi's hand and she does. Sayuri asks Anjali what is she doing for which Anjali says that she's giving a heads up to the family and says that she's getting married to Kanha and says Sayuri that she must be a part of the wedding.
She says that she wants her to take part in all the wedding preparations and leave their life forever after her marriage with Kanha and leaves. Kanha comes back home and servant reminds him that he came without shoes. He's about to go to Sayuri's House but stops himself. He dreams of dancing with Sayuri.
Kanha is in hall and everyone comes to him. Saroj asks if he's alright and Nakul asks what happened. Kanha says that Sayuri refused to come with him. He says that someone has made her believe that she came between him and Anjali and that Chiru died because of her horoscope. Dhanraj looks accusing at Saroj. Anjali comes there as Kanha says why she cares about others more than the one who loves her.
Precap : Indrani will angrily say Sayuri that Anjali will take away her husband and her family from her. Nakul will make Kanha understand that the suicide drama by Anjali is all a plan and explains it to him. Anjali will hear it. Sayuri will say Dadi that she can't be with Kanha.
The episode starts with Kanha touches Sayuri's tears and says its love and only few get to have this love. He says that not everyone gets to have this love. He says that God is aware that they both can't stay without the other person and so got them married and made them friends. He asks why does she want to lose what they have. Sayuri asks him to leave as she don't have answers. She tries leaving but Kanha calls her. He asks her to go if she wants to leave but asks her to say what's wrong. He says if she has right to leave then he too have the right to know the reason.
Kusum says Saroj that she herself is scared of Anjali now. Saroj supports Anjali but Kusum calls her obsessive. Saroj says what's wrong in it as people go mad in love but Kusum says it's extreme level. Saroj recalls what they did with Sayuri but Kusum says it's because she was afraid of losing her other sontoi just like Chirag and did it out of fear. Saroj says Anjali is also doing all this out of fear of losing Kanha.
 She says that she loves Kanha more than Sayuri and wants to keep him at any cost. She says people crosses the line out of unconditional love and it's not wrong as long as Sayuri is away from Kanha. She leaves while Kusum is very certain that Anjali has something at her sleeves and believes she's going to do something really bad.
Click to read
Woh Toh Hai Albela 3rd August 2022 Written Update: Nakul taunts Saroj.