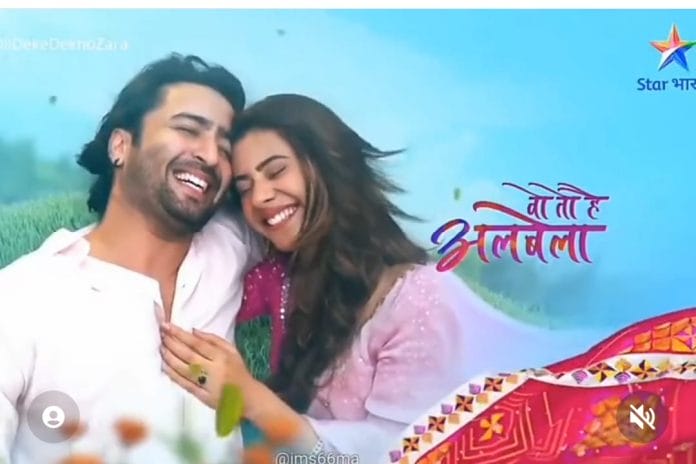 Woh Toh Hai Albelaa Upcoming Story, Spoilers, Latest Gossip, Future Story, Latest News and Upcoming Twist, on Justhowbiz.net
The episode starts with Nakul telling Saroj that he knows well that they don't like Kukku's presence in the House. However he asks what if the reports probe that the baby doesn't belong to Kanha. He asks if they would throw away the baby. He reminds her that Krishna himself is the adopted son of Yashodha. He asks how they could treat a child this way. He warns them that if they try to throw Mittu and Kukku out of the house then Kanha and Sayuri will also leave the house and ask them to act sensible. He joins with others while Saroj gets worried.
Sayuri gives a bath to Mittu and takes care of her. She speaks with Mitthu that she never dreamt that the day would come when they would rejoin their family and celebrate Holi with them. She's very much excited about it and puts her in a cradle asking her to rest well. She comes downstairs when suddenly she hears Indu's scream calling out for her. Sayuri goes upstairs and Indu accuses her for leaving the baby in the bathtub. Sayuri asks what she is saying as she leaves the baby in the cradle and turns to find only a doll in it. Saroj says that her mental state is not right and asks Kanha to take her to the doctor and prescribe better medicine. Kanha calms down Sayuri saying that mistakes happen and comforts Sayuri. Sayuri is confused. Rashmi watches with a smirk.
In the evening both the couple pray in front of Holi ka Dahan and start taking rounds. Sayuri again sees Vikranth and gets terrified. She doesn't create a scene and simply does pooja. Saroj and Dadi Mausi are discussing test results as they can't wait to get it. Sayuri comes there asking for some help. Kanha checks the sand and a footprint when no one wears slippers for Pooja. Nakul comes there and asks what he's doing there. Kanha expresses his doubt and Nakul and Kanha go in search of finding someone. Sayuri suggests going to mental Asylum for the safety of her child. Saroj and Dadi Mausi say that Kanha won't agree with it. Sayuri says they need to do it. Kanha sends a message to Ravi who threatened Sayuri with phone call. Ravi reads the message and gets scared. He messages someone that he can't do it anymore but the person replies that it's just a matter of few days. Ravi is not convinced.
Kanha says that anyone would respond to such messages but the person neither responded or called back. Kanha's suspicion grows stronger. Next day, both Sayuri and Kanha got ready to celebrate Holi. They both appy colour on each other and wishes Happy Holi. They recall their first Holi while Kanha asks Sayuri to not leave him at any cost.
Precap: Kanha will find Sayuri missing and will ask others about Sayuri. Everyone will have no idea about it. Sayuri will be alone when Vikranth comes in front of her and throws colour powder at her saying happy Holi.
Click to read:
Woh Toh Hai Albelaa 8th March 2023 Written Update: Rashmi's efforts to prove Sayuri mentally unstable