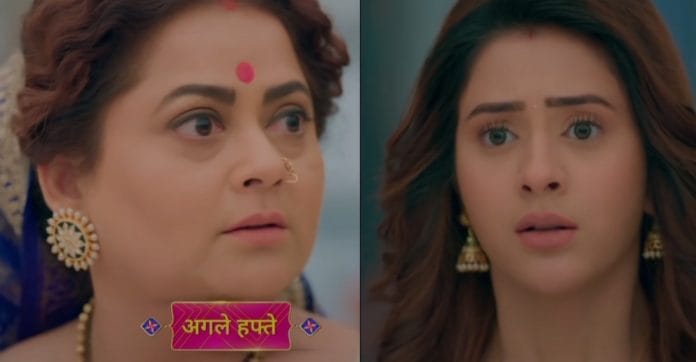 Woh To Hai Albelaa Upcoming Story, Latest Gossip , Future Story, Latest News and Upcoming Twist on justshowbiz.net

Star Bharat's popular show Woh Toh hai Albela starring Shaheer Sheikh and Hiba Nawab currently focuses on Sayuri's return to Chaudhary mansion.
Previously we have seen that, Kanha found a different foot print at their House and showed it to Nakul. Nakul was sure that someone is trying to scare Sayuri. Sayuri comes to Saroj and says that the she wanted to get trested at mental Asylum. Kanha texted a message from Sayuri's phone to Ravi's number whose call threatened Sayuri.
Ravi got scared and texted the person who hired him. Sayuri decided to leave mental Asylum after the Holi party. Holi celebrations were at full swing when an ambulance came to take away Sayuri for treatment. Indu gets offended knowing about it and confronts Saroj about it.
Saroj reveals that it's not her but her own daughter who wanted to get treated for the safety of her child. Sayuri left to search for Kuku. Kanha found Sayuri missing and asked others about None had any idea about it. Sayuri was alone when Vikranth comes in front of her and throws colour powder at her saying happy Holi.
However Kanha came there on time and chased after him. She caught him and removed Vikranth mask to reveal himself as Ravi. Kanha exposed him in front of family and confronted him about the person who hired him. He pointed to Rashmi as the one. Rashmi pleads innocence in front of Nakul when Sayuri asks her to shut up.
She reveals in front of everyone that her falling from the cliff is not an accident and someone has pushed her off the cliff. She reveals that the person is Rashmi. Everyone were shocked to hear it while Rashmi accepts her mistake. However, she says that this time she didn't do anything but none trusts her.
Kanha and Nakul expressed their hate towards her while Indu slaps her hard for her son. Police comes to arrest Ravi and Sayuri handed over Rashmi to them too. Rashmi pleaded innocence but none believed her. She gets dragged away.
Nakul Apologizes Sayuri while Indu is ashamed of her upbringing. It's revealed that it was all Dadi Mausi and Saroj's plan to trap both Sayuri and Rashmi. All the evidence is against Rashmi.
In the future episodes we will witness, Sayuri tells Kanha that he handled himself but is worried about Nakul . Kanha agrees with her when the servant informs them that Nakul angrily went out. Saroj asks Dadi Mausi if they are putting their children in pain in the context of punishing Sayuri and Rashmi. Sayuri and Kusum come there.
Will Saroj and Dadi Mausi get caught? Will the DNA reports turn in favour of Sayuri? Will Rashmi gets punished?
All these questions will be answered in the upcoming episodes.
Stay tuned for more space.