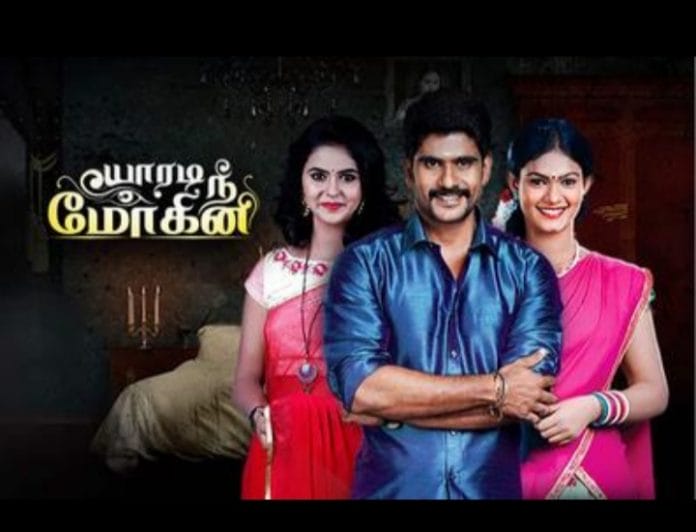 Yaaradi Nee Mohini Upcoming Story, Spoilers, Latest Gossip, Future Story, Latest News and Upcoming Twist, on Justhowbiz.net
Today the episode starts with Family enjoying in the beach. Muthurasan,Rudra, Uthra sitting in the stone. Muthurasan asks Rudra and Uthra to enjoy. John looks at them through binocular. Vennila, Kalai enjoy the beach waves.
Gowtham, Janani spend time happily together. Simbaran, Karthik enjoy the beach waves. Both couples spend time romantically. Muthurasan asks Rudra and Uthra to enjoy. Rudra goes and plays with sand. Uthra is sitting alone. Muthurasan asks her to go and enjoy.
Uthra goes and plays with sand. Rudra tries to construct a sand castle. Uthra does the same. Muthurasan arrives near them. Muthurasan asks Rudra, Uthra to construct a nice sand castle. Both agree. Muthurasan announces that a gift to those who construct a nice sand castle. Rudra asks Uthra to construct a small sand castle. Uthra agrees.
Rudra, Uthra construct sand castle. Family see them. John sees the family through binocular. Rudra constructs a big sand castle. Uthra constructs a small castle. Muthurasan looks at the sand castle and confuses.Mutharasan asks family members to vote.
Family members vote for Uthra. Uthra is on cloud nine. Later, Muthurasan and Vennila alone vote for Rudra. Rudra gets upset and break the sand castle by foot. Vennila scolds Rudra and advises her not to do. Rudra gets tenses. Muthurasan consoles Rudra by saying it just a game, why are you anger.
Muthurasan says come on I lift you. Rudra stands angrily. Uthra consoles Rudra. Rudra becomes happy. John sees everything through binocular. Swetha arrives with a drug bag. John wears a dhoti. Swetha questions John about his dhoti. John replies that Muthurasan gifted me. Swetha says you become friends. John praises Muthurasan.
Swetha gifts a drug to John. John asks Swetha what I have to do for you. Swetha asks John to place this drug bag in Muthurasan room and says Police will arrest him. John questions Swetha by asking why are doing like this. Swetha replies Vennila will be sad. John refuses to do. John says I don't want to spoil their happy life and goes.
Swetha gets tenses. Swetha laments by saying after getting dhoti from Muthurasan you are supporting him, I know what to do and goes. Later, Swetha sleeping in the room. Some one disturbs her continuously.
Later, Some one splashes some water. Swetha won't mind it. She is in deep sleep.
Suddenly she falls down from the bed. Swetha wakes up and switch on the lights. Chitra throws Vennila photo towards her. Swetha stuns. Swetha suspects Chitra. Chitra's spirit appears before her. Swetha speak boldly to her. Chitra's spirit lashes out at Swetha.Swetha speaks rudely. Chitra threatenes Swetha and says I won't leave you.
Chitra's spirit puts a noose around Swetha neck and lift Swetha. Swetha fears the worst and calls Maruthu for help. Chitra's spirit lifts Swetha higher. Swetha shouts terribly. Chitra's spirit smirks. Later, she leaves the rope. Swetha falls down. Chitra's spirit warns Swetha and goes.
with this the episode ends.