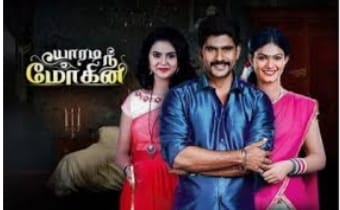 Yaaradi Nee Mohini Upcoming Story, Spoilers, Latest Gossip, Future Story, Latest News and Upcoming Twist, on Justhowbiz.net
Today the episode begins with….. Vennila and Pooja brings Simabran… Nilambari and Poongothai shocked…. when they looked at Simbaran.. the priest asked Simabran to sit next to Karthik… Simabran sat next to Karthik… All become overjoyed… the priest chant mantras… all of the sudden Simbaran faints….
Vennila, Janani, Pooja, Karthik asked here to wake up… On the other side, Nilambari gleed… Muthurasan and Ashok tapped in her face… but she won't woke up… Muthurasan asked Karthik to take his car..
Karthik lift Simabaran… Muthurasan, Pooja, Ashok rushes an unconscious Simbaran to hospital… while going Muthurasan asked Vennila to take acre everything and left…
Vennila worried and went to her room… and shares her worries to the Swetha parrot… Swetha parrot said don't worry… you pray to god and eat the fruit… problem will solve.. Vennila asked what fruit… Swetha parrot said I gave yesterday…that was a precious fruit… if you pray to that fruit and eat… everything will happen… compel her to eat that fruit…
Vennila to bring the fruit… Swetha parrot speak to herself that.. this marriage won't happen…after eating this fruit… you are going to die and gleed..
Vennila brought that fruit… Swetha parrot compel her to eat… Vennila ate that spike fruit… Vennila came down…. and stand next to Janani… Nilambari create a scene..
She call Poongothai… she won't come… she asked her brother to bring Kalai…
He brings Kalai… Nilambari asked Kalai to see the Maruthu marriage and asked to bless them…on the other side, Karthik was broken and cries constantly…Muthurasan console him and promised him by saying… today your marriage will happen… believe me… and said nothing will happen to Simabran .. don't worry..
Doctor came out of the room… Muthurasan enquire about Simabran.. Doctor said she ate spike food..so that she faints…Muthurasan asked shall I take her home… Doctor said I will examine once again and tell.. and went inside…
Ashok shares his doubt to Muthurasan by saying..how I happen alone to her… Muthurasan asked him what are you going to tell? I doubted at Nilambari… she don't like this marriage… so she may spike in the food.. Karthik said they will anything… to stop this marriage… and tensed..
Muthurasan console him and said what ever obstacles will come… this marriage will happen. On the other side, Nilambari asked Kalai to bless the 'Thali'.. Kalai cries… Vennila became scared with Nilambari active… she tries to phone Muthurasan… but Muthurasan won't pick the call…
Vennila worried of Simbaran… and looked at the entrance constantly… Nilambari asks Maruthu to tie the 'Thalia' in Muthupachi neck… Vennila stops her…
Nilambari asks Vennila why are you stopping this? Vennila said Muthurasan asked to monitor… without him…marriage should not happen… Nilambari said when will they come.. we don't… and asked the priest the chant mantras..
Vennila asks Nilambari to stop.. Nilambari argue with Vennila… by saying why should I listen you… quarrel between Nilambari and Vennila..
with this the episode ends….