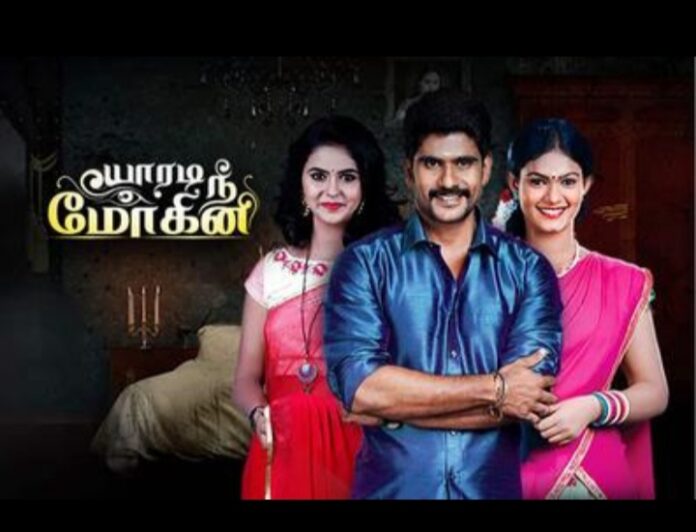 Yaaradi Nee Mohini Upcoming Story, Spoilers, Latest Gossip, Future Story, Latest News and Upcoming Twist, on Justhowbiz.net
Today the episode begins with Rudra wants to see Swetha's baby. She asks Muthurasan for permission. Muthurasan tells her not to go. Rudra wants to see the baby boy, so she goes near Swetha's room. Swetha plays with his child. Rudra hesitates to go into the room. Swetha invites her inside. Rudra goes inside. Swetha tells her to see her baby boy. Rudra fears the worst to see Swetha's baby. Swetha says I will not tell to anyone about your visit. Rudra believes Swetha and plays with her baby boy. Swetha smirks at Rudra.
Swetha thinks that like this the family members are going to come one day I will wait for that. Swetha tells her to come and see the baby boy whenever you want. Rudra spends quality time with the baby boy. Swetha puts her baby boy in Rudra's lap. Rudra becomes overjoy. Swetha is going to take a photo when Rudra holds her baby boy. Rudra tells her not to take photo. Swetha agrees. Suddenly, Poongothai enters Swetha's room. Poongothai shocks to see Rudra in Swetha's room. Rudra plays with the baby.
Muthurasan calls Rudra. Rudra goes out of the room. Swetha says like this everyone is going to come to see my son. Poongothai tells her to hide the truth of Vennila's baby boy from the family. Swetha says I can join with Muthurasan only with this baby boy. At that moment, the baby cries terribly. Swetha tries to comforts the baby but the baby screams terribly. Poongothai says he may scream out of hunger, I will go and get milk for him. Swetha says breastfeeding is the best for the baby. Poongothai asks Swetha how will Vennila feed your baby. Swetha says to Poongothai that I know how to deal with Vennila.
Swetha goes to Vennila's room with the baby boy. Swetha's baby screams terribly. Vennila asks Swetha why he is crying. Swetha says I didn't get milk and creates a scene. Swetha tells Vennila to give milk to the baby. Swetha speaks emotionally to Vennila. Vennila gets the baby from Swetha. All of the sudden, Muthurasan enters Vennila's room and tells her not to breastfeed Swetha's baby. Vennila says I will feed him. Muthurasan says this will create a problem don't do it. Vennila is stubborn with her decision.
Vennila breastfeeds Swetha's baby. Muthurasan leaves the room when Vennila was not ready to hear his words. Swetha smarts move. Later, Guruji visits Muthurasan's words. Muthurasan asks him to select a date for the naming function for his daughter. Guruji predicts a date for the naming function. Muthurasan tells him to write the horoscope for her daughter. Guruji agrees and asks according to the horoscope you should have a baby boy. Swetha brings the baby boy and tells him that this is Muthurasan's baby. Karthik lashes out at Swetha. Guruji informs Muthurasan and leaves the home. Karthik tells Swetha to swear beyond the child. Swetha swears beyond the child that he is the child of Muthurasan.
with this, the episode ends.