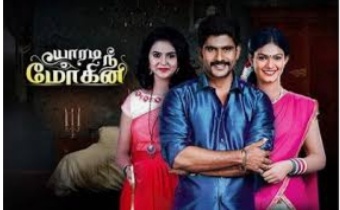 Yaaradi Nee Mohini Upcoming Story, Spoilers, Latest Gossip, Future Story, Latest News and Upcoming Twist, on Justhowbiz.net
Today the episode begins with…Muthurasan bring Gokul, Muthupachi to the stage… Nilambari and Maruthu stares at them…. the priest commences the mantras… all became overjoyed… the latter, the priest gave the thali plate to Janani and asked to get the blessing…from everyone…
Janani happily went with the plate…. and showed it to everyone… and gave it to the priest… In front of everyone.. Gokul tie the knot… All blessed by through flowers…. at that moment… Kalai too blessed Gokul, Muthupachi… Janani noticed that and ask everyone to looked at…
All in cloud nine… Vennila came and hugged here… Maruthu and Nilambari shocked… and looked at each other… Vennila slightly feel like fainting… slowly she move to upstairs and sit in the chair… the latter, Muthurasan search Vennila and arrives next to her… and asked her… what happen..
Vennila said I am exhausted…. Muthurasan screams by saying you won't care of the child… you constantly work… so that you may feel tired… asked her to take rest… Gokul parents and Gokul arrives and inform that successfully marriage happen…
All because of you….and thanked Muthurasan… Muthurasan said why are thanking me… I should thank you… when I ask…you won't refuse… thank you so much… you save Kalai life also… Gokul mother said I showed many girl… Gokul refused… when I showed Muthupachi photo.. he accept to marry her…all because of you…
The latter, Muthurasan and Vennila get blessing from Gokul parents… They blessed Muthurasan and Vennila… and inform that by evening we are leaving… Muthurasan and Vennila.. asked them to stay for some more days… they said we are other works too.. so we have to leave…
Muthurasan asked Gokul to take care Muthupachi properly… Gokul agrees …Kali arrives and asked Gokul to take Care Muthupachi… Gokul said don't worry… I will and asked Kali to come and stay along with them…Kali refused…
Vennila feels like fainting… so she went to room.. On the other side, Nilambari, Maruthu, Poongothai sitting angirly…Karthik, Simbaran arrives… Maruthu and Poongothai went out of the room… when they enters… Karthik asked Nilambari to bless them… Nilambari refused… Karthik compels Nilambari and asked to bless..
Nilambari blessed alone Karthik… Karthik said this is not fair.. Nilambari said go… Karthik went out.. Simbaran stare Nilambari… Nilambari arrives near Simbaran and said I will see how you will live happily in this home… and gleed… Simabran said I am going to live happily in front of you and gleed… I will challenge you and went out…
Muthurasan call Vennila… Muthurasan search her and arrives to there room…Vennila lied in the bed… Muthurasan wake up her..but she can't … he sprinkle some water…but she won't wake up…
Muthurasan call Karthik… Nilambari and Poongathai became overjoyed and said our plans failed… Swetha plan starts working and gleed… Muthurasan asked Karthik to phone doctor…Nilambari said come on… we go and see.. Doctor examine and said during pregnancy time fainting is normal…. allow her to take rest… she will wake up in in a minutes and went…
with this the episode ends..