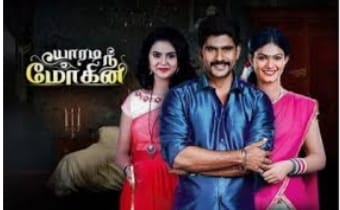 Yaaradi Nee Mohini Upcoming Story, Spoilers, Latest Gossip, Future Story, Latest News and Upcoming Twist, on Justhowbiz.net
Today the episode begins with Swetha sprinkle some water in Appu faces.. Apuu wake up and asked where I am? Nilambari scold Appu by saying I asked you to take care of Muthurasan.. but you are sleeping here.. Appu said I came here to get puja ticket… at that time one lady looks like god mahalakhmi arrives near me.. She offer a puja water… I drank that.. After that I don't anything..
Nilambari and Swetha get annoyed, when Appu tells them the reason why he fainted.. Swetha showed the Vennila photo and asked him.. did you see her? Appu said yes, she gave me the puja water.. Swetha said she is Vennila.. and scold him by saying you spoiled our plans.. Nilambari laments by saying we won't allow him inside..
On the other side, Muthurasan calls Vennila.. Nilambari said she know everything so that she came her and act with him and went.. Nilambari asked Swetha to go… Appu and Swetha arrives near Muthurasan.. Muthurasan asked Swetha..where you went.. She lied to him.. she asked Appu to take Muthurasan to car.. she went.
Muthurasan thanked Appu… Appu became overjoyed.. On the other side, Nilambari inform to Maruthu about the Vennila arrival. Maruthu became shocked.. Swetha said this time also we missed her… the Priest came near Swetha and asked you find Vennila anywhere… Swetha said no.. The Priest offer to food packet to Swetha.. Swetha refused… The Priest compel her.. he Nilambari asked Swetha to get it…
Swetha get it from the Priest… She take that to home.. she constantly looked at that and get tensed… Nilambari asked Swetha to calm down.. but she won't listen her.. she fumes… and said we have do something.. Vennila doing puja's we have do something… I believed that Nambothri.. he did everything well… but suddenly Chitra intervenes.. shall we ask help to Nambothri.. Nilambari asked Swetha to phone Nambothri.. Nilambari explain everything to him.. He said in my life I fail in that puja… after that I did lot of penance… to get power.. Nilambari asked him to come..
He accepts and said I will come… On the other side, Muthurasan, Karthik, Janani, Gowtham are waiting for Krishnan.  Muthurasan eagerly waiting and urged to call Azghappan.. Suddenly Azghappan car arrives.. Karthik inform to Muthurasan that Krishnan arrives.. Azghappan introduce Krishnan to Muthurasan..
Krishnan get blessing from Muthurasan. Muthurasan asked Janani to take arthi.. Krishnan refused and asked Swetha has to take.. Muthurasan agrees.. and call Nilambari, Poongothai and Swetha..
Swetha, Nilambari came out.. Muthurasan asked Swetha to take arthi.. all went inside.. Swetha put the camphor in his leg.. he pulled his leg.. and said I like you.. Krishnan arrives near entrance.. Maruthu stopped and threatens with knife… the latter, Krishnan threatens with the gun.. Swetha and Maruthu became afraid…
Muthurasan introduce Swetha to Krishnan.. Krishnan said I like her.. I will marry her.. Swetha became speechless…
with this the episode ends..