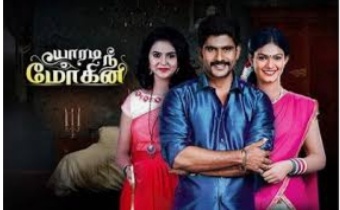 Yaaradi Nee Mohini Upcoming Story, Spoilers, Latest Gossip, Future Story, Latest News and Upcoming Twist, on Justhowbiz.net
Today the episode begins with….. Vennila and Muthurasan arrives to Chitra room..Vennila said to Chitra that marriage went well… after lot of struggles…like this Swetha marriage have to happen.. we search Swetha everywhere… but we won't find her till now…
Muthurasan pray to Chitra by saying….I searched everywhere Swetha but we won't find her… if she caught we will arrange a marriage with Krishna… Krishnan also missed…. please help us to find Swetha… so that we arrange marriage for her..if this marriage happen… everyone will be happy…. I will happily send time with Vennila… and went…
Nilambari brings milk for Karthik and Simbaran…. she knocked the door… Simabran opens the door… and shocked when she noticed Nilambari outside…. Simbaran came out… Nilambari said you forgot the milk…. Karthik call Simbaran and came out… Nilambari gave that milk… Simbaran refused… and said yesterday you spiked something… you may spike something in this also….
I won't believe you… Nilambari said I won't spike anything…. Simabran said I know who you are… don't act in front of me…Nilambari asked Karthik to looked at her… and said how she is speaking… Simbaran said don't intervenes when we speak…. this is something between daughter -in – law and mother -in-law.. don't intervenes….
Karthik reminds quiet.. Nilambari said because of Muthurasan compellation I act like blessing… I won't bless you from my heart…. Karthik become upset… Nilambari challenge her by saying get blessing from me then you enjoy the nupital night…. Simbaran said I already get blessing from the good souls…. so I no need you bless…
Nilambari said how she speaking…. Karthik said she is speaking correctly… Nilambari became speechless… Simbaran asked her to drink the milk and take rest… Nilambari angrily…. went… Karthik, Simbaran went inside…
On the other side, Muthurasan and Vennila sleeping… Chitra's spirit appears and looked at them… Muthurasan and Vennila sleeping… Chitra's spirit call Muthurasan… Muthurasan slowly looked around… Chitra call once again.. Muthurasan looked at Chitra and became speechless… Chitra asked how are you… Muthurasan said I m good…
Chitra said I appear in front of you to tell something… Muthurasan asked what… Swetha is nowhere… she is in our home… Muthurasan asked what… she is in our home… Chitra said Swetha is here… Muthurasan become confused… Chitra said you catch one parrot… do you remember that is Swetha… Muthurasan won't believe that… Chitra said to her target is to marry you..

She will go any extend to marry you…if she spilled.. you will obey her.. one time she spilled you.. with my power I saved you..
be safe.
You have to act and go with her to Nambothri.so that Nambothri transform Swetha to original form. if you go with her so that you can save Krishnan too. Nambothri transform Krishnan into stone…be careful with that Nambothri and disappears.. Muthurasan wake up from the sleep… Vennila asked him… Muthurasan shares everything to Vennila… Muthurasan asked Vennila to sleep…
with this the episode ends…