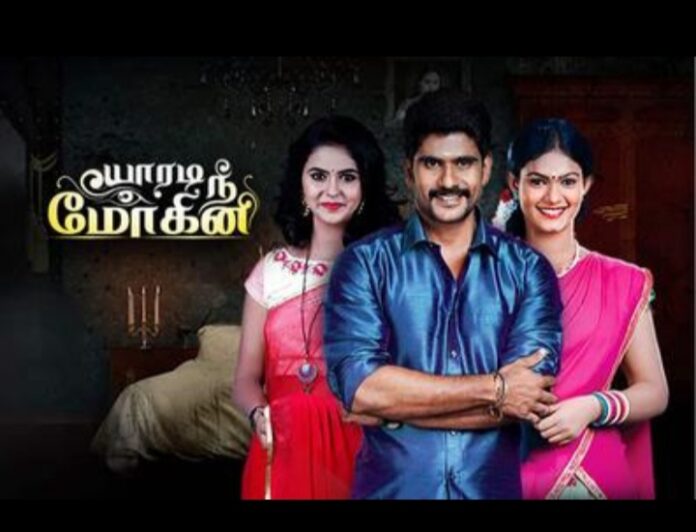 Yaaradi Nee Mohini Upcoming Story, Spoilers, Latest Gossip, Future Story, Latest News and Upcoming Twist, on Justhowbiz.net
Today the episode begins with…. Vennila became upset…Muthurasan asked her to smiles…and asked her we have to save Krishnan isn't it… Vennila agrees… Muthurasan said if you are with sad face how will I go… asked her smile..
She reminds sad… Muthurasan said I know how to make you laugh… come with…we go and disgust the parrot… Muthurasan brings Vennila near the parrot… asked her to hide and watch… Muthurasan came near Swetha parrot act like he pretended to have changed…
Swetha parrot believe that…. Muthurasan said I want to see Swetha… where is she I don't… with her I can't live… I loved her… I want to see her… I searched everywhere… but I don't find her… when I saw you… you looks like Swetha to my eyes… Swetha parrot believe that Muthurasan changed…
Swetha parrot said I know where Swetha is… I will take you there … Muthurasan opened the cage… Swetha parrot came out… Muthurasan asked to show where Swetha is… Swetha parrot agrees… Muthurasan said I go and bring car key… you wait outside… Swetha parrot flu away…
Vennila become sad… Muthurasan asked what happen… Vennila said don't speak in front of me like this….and become sad… Muthurasan said I just acted…its not true… I am just acting…Muthurasan console her and bring her down…
Nilambari and Poongothai sitting angrily in the room… Swetha parrot arrives and inform to Nilambari that Muthurasan changed… i take him to Nambothri.. as per my plan..I am going to marry Muthurasan… and going to come as Muthurasan wife… Nilambari and Poongothai become overjoyed.
Swetha parrot asked Nilambari to phone Nambothri and inform.. Poongothai asked Vennila is here.. how will you come here.Parrot said I try to kill her..but she escaped..leave her..she serves for you.
Parrot fly away.. Nilambari said that come on let see Muthurasan… Muthurasan going out…. Nilambari call him and asked him…where are you going… Muthurasan acted in front of Nilambari and Poongothai… they believed that Muthurasan changed.. Muthurasan acted like with her I can't…I loved her..this parrot show where Swetha is..
Nilambari said her desire is to marry you… so that she went and hide somewhere… marry her… Muthurasan became shocked when Nilambari say that to Muthurasan… but he won't showed in the face… he said I too thought of that… you said… I will… and went…
Vennila call him and tie Karuppaswamy rope and said Karuppaswamy will save you… Muthurasan said if Swetha marry me… Vennila said this won't happen… don't speak like this.. Muthurasan came with his car key.. Parrot is waiting for Muthurasan… Muthurasan asked Parrot are you ready… Parrot said yes… Muthurasan asked Parrot to come inside… Muthurasan open the door… Parrot arrives and side in the front seat… Vennila say bye to Muthurasan…
Muthurasan looked at Vennila in the side mirror and started moving… Nilambari and Poongothai came out and phone Nambothri… Nambothri said I am eagerly waiting for that him… I won't leave him easily… Nilambari ask him to marry Swetha with him …..
with this the episode ends…