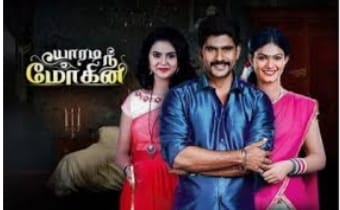 Yaaradi Nee Mohini Upcoming Story, Spoilers, Latest Gossip, Future Story, Latest News and Upcoming Twist, on Justhowbiz.net
Today the episode begins with ….. Karuppanaswamy arrived to Muthurasan body and beat the Nambothri… Nambothri said this group asked me to do this… so that I did this… Karuppanaswamy looked at the Swetha, Nilambari, Maruthu, and Poongothai side and beat them with a whip.. Nambothri escaped from that place… Karuppanaswamy beat them harshly with his whip… Vennila and Krishnan looked at them happily…
Nilambari and Swetha pleased Karuppanaswamy to stop…. Karuppanaswamy won't listen them.. they all shout out of pain… Nilambari said we don't do like this… please forgive me Karuppanaswamy…. all kneel down and asked Karuppanaswamy to forgive…. Karuppanaswamy stopped… all went to home…
Vennila thanked Karuppanaswamy… Karuppanaswamy disappears…. Krishnan and Vennila bring Muthurasan to home…. and put him in the room… Vennila looked at Muthurasan and worries… Krishnan said he will be alright… don't disturb him… leave him… Krishnan asked Vennila why are struggling like this… Vennila laughs…
On the other side, Maruthu, Swetha, Poongothai, Nilambari are sitting sadly… Nilambari said if Vennila reveal the truth to Muthurasan… Muthurasan will surely kill us… Poongothai became afraid and said we desire of the his property… if he know the truth.. he will send out of the house… then we find it difficult to live.. Maurthu said this all happen because of this Vennila.. she spoiled everything… I already said to kill her… if we killed her… this problem won't come….  Nilambari said this is not the time to talk like this… we have to console and pacifies her….
Swetha asked to talk to her…. Nilambari arrives in front of Vennila… and asked to come.. Krishnan said if you want to talk something… talk here itself… she won't come with you.. Vennila said i come… Krishnan said don't go they will do something… Vennila said they won't do anything… and went to their room…
All are sitting sadly… Nilambari pleased her not to tell… we are your relatives… if you tell the truth.. Muthurasan will send out of the house…  they you will alone with relatives… Vennila said I am treating everyone equally… but you not even treating like a human… why should I hide the truth from Muthurasan… I did good things for you…. but you tries to spoil my life… I arrange a marriage for Swetha… if should I be quiet… I will tell to Muthurasan… Nilambari threatens her by saying as per your wish Swetha will marry Krishnan.. please don't tell… Vennila said I will tell and went out of the room…
Krishnan received a phone call from Karthik… Krishnan said Vennila and Muthurasan arrives to home… come to home… Krishnan asked Vennila are they threatens you.. she said no… Rudra call Vennila and hugged her and cries…. and laments by saying not to go anywhere… Karthik said you are with me… but we unable to find you…. do go anywhere… Janani, Gowhtam, Krishnan asked why are struggling like this.. why are you hiding yourself like this….
with this the episode ends……..