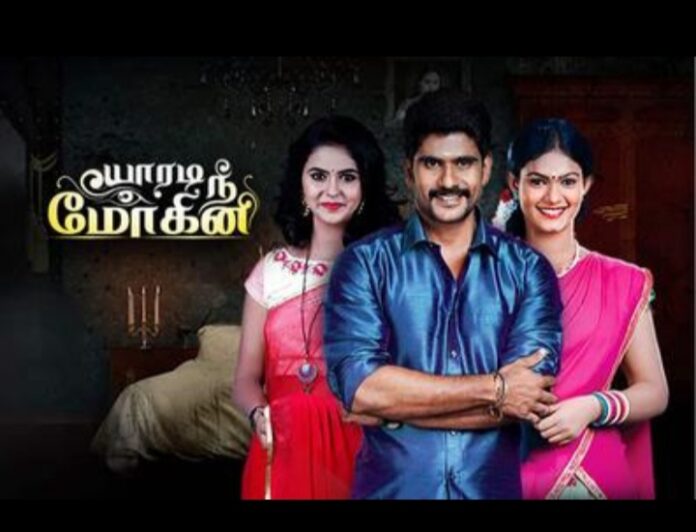 Yaaradi Nee Mohini Upcoming Story, Spoilers, Latest Gossip, Future Story, Latest News and Upcoming Twist, on Justhowbiz.net
today the episode begins with Vennila meets Maya. Maya predicts that your children are in danger. Vennila is scared. Maya advises to take care the children safely. Swetha overhears the conversation. Vennila goes out. Suschitra asks if we can go. Vennila agrees.
Swetha meets Maya. Swetha is lying to Maya. Muthurasan loves me, he agrees to marry me but Vennila married him. Swetha says I want to get married Muthurasan. when will I marry him. Maya is quiet. Swetha insists Maya to predict. Suddenly, Chitra's spirit appears in front of Swetha. Swetha is scared. Swetha asks Chitra to go. Chitra says I will not leave you.
Swetha walks out. Chitra's spirit follows Swetha. Swetha is afraid of Chitra's spirit. Swetha runs. Chitra's spirit slaps Swetha. Maya comes in front of Swetha. Swetha asks Maya for help. Maya says to Chitra that you have still time to kill Swetha and goes. Swetha fears the worst. Chitra's spirit disappears.
Swetha fears the worst. Emaraja kidnapped Meenakshi and tied her up. Meenakshi tries to escape from that place. She notices Vennila. She tries to call her. Gandhimathi, Iniya wander around the shops. Gandhimathi notices Parotta shop. In that parotta shop they conduct a game. Gandhimathi participates in that game.
Arjun shows Meenaskhi's photo and asks about her. Meenakshi moves towards a desk to get a piece of paper. Nakshtra is sad. Suschitra asks Naksthra why are you sad. Nakshtra opens up to Suschitra. Suschitra tells Anand to take Nakastra somewhere. Anand agrees.
Gandhimathi participates in the game. "Save me from danger," Meenakshi writes on the paper and throws it away. Vennila picks up the paper and going to throw it in the dustbin. Suddenly, She opens that piece of paper. Vennila asks Rudra to read what is written on the paper. Vasu, Muthurasan, Arjun show Meenaskhi's photo and asks about her. Everyone responds that we have never seen.
Vennila says someone is in danger. we have to infrom Muthurasan about this and goes. Gandhimathi won the game. Vasu shows Meenaskhi's photo and asks about her. Gandhimathi notices Vasu and overhears the conversation. Swetha fears the worst and informs everything to Nambothri. Nambothri asks Swetha to abduct Rudra. Swetha agrees.
Iniya meets Swetha. Swetha asks Iniya for help. Iniya asks what I should do. Swetha asks Iniya to open the back door of the house. Iniya asks why I should open it. Swetha replies that I am going to kidnap Rudra. Iniya agrees.
Swetha asks Inya for one more help. Iniya asks what I should do. Swetha tells Iniya to steal the Muthurasan pen drive. Iniya agrees. Vasu, Muthurasan, Arjun learn the truth about Meenaskhi from the shopkeeper. The village elders invite Suschitra for village festival. Suchitra accepts they invitation.
Iniya opens the door. Simbaran, Janani, Gowtham, Kalai try to find what is in the pen drive. Swetha enters the house. Simbaran says there is a problem in pen drive. Gowtham urges Simbaran to recover the issue.
with this the episode ends.