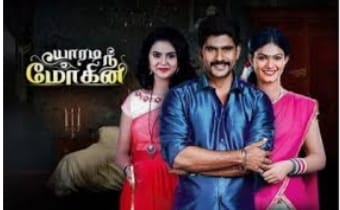 Yaaradi Nee Mohini Upcoming Story, Spoilers, Latest Gossip, Future Story, Latest News and Upcoming Twist, on Justhowbiz.net
Today the episode begins with Roshini asked Vennila why are you looking sad.. Vennila said we planned a lot but this Swetha plan to marry Muthurasan.. how will stop this.. Roshini said Krishnan arrives don't worry of that… select one date for marriage.. After Swetha marriage all problem will come to an end..
Roshini and Vennila went at the entrance of hospital.. Vennila and Roshini spot Maruthu.. Both hide himself near the Doctor room.. Maruthu search Vennila everywhere in the hospital.. On the other side, Doctor take Muthurasan for checking.. Vennila and Roshini hide themselves in the room..
Doctor check him with that new equipment and said that there is a lot of improvement in your eyes.. you will get the sight within 10-to 15 days… Muthurasan became happy.. Vennila heard that and she became overjoyed.. and thanked god. Swetha became upset after his speech… and thought if he got the sight then marriage is not possible… Doctor asked Muthurasan to remove the glass… and aksed him to looked at the object..
Muthurasan said the object are blurred… I am not able to see clearly.. Doctor said don't worry.. you improved a lot.. you will get the sight soon… do the eye exercise regularly… so will get well soon… Muthurasan thanked Doctor.. and went…
Vennila became overjoyed.. Maruthu search Vennila everywhere in the hospital.. Vennila and Roshini hide themselves near the bed… Maruthu enter into one room.. Both went out of hospital and get into the auto..
Maruthu noticed that from the hospital window.. he run towards auto.. Roshini urged auto man to go fast.. auto went… Vennila escaped from the Maruthu hands..
In the home… Swetha became upset.. Nilambari call her and asked her why are looking upset.. Swetha said Doctor said within 10-15days Muthurasan will get the sight.. if he get the sight our plans will spoil… suddenly, Maruthu intervenes and said I spot Vennila in hospital.. Swetha became shocked… and asked why don't you catch her.. Maruthu said I tries to catch her but just missed from my hands…
Nilambari asked why she came there… to see Muthurasan.. Swetha said no… today morning I get appointment till that no one will know… I think she is pregnant.. for check she arrived there.. Nilambari laughs and said she meet with the accident.. she was in comma.. how is this possible.. don't think too much.. Swetha said if she may be pregnant.. I will kill her…
Nilambari convince her by saying don't think of her.. your target should marry Muthurasan.. consecrate on this.. she is not going to give birth.. you are going to give birth… If this Nambothri come.. all problems will come to end..
Vennila is dreaming.. Roshini asked what do you what to eat… She said I want mango… I want to see Muthurasan.. Vennila once again dreaming…
Next day.. Karthik arrives to Muthurasan room asked him to get up.. Muthurasan asked what.. he said we are going to your eye sight.. he asked to remove his glass.. Muthurasan looked at Karthik…
with this the episode ends..