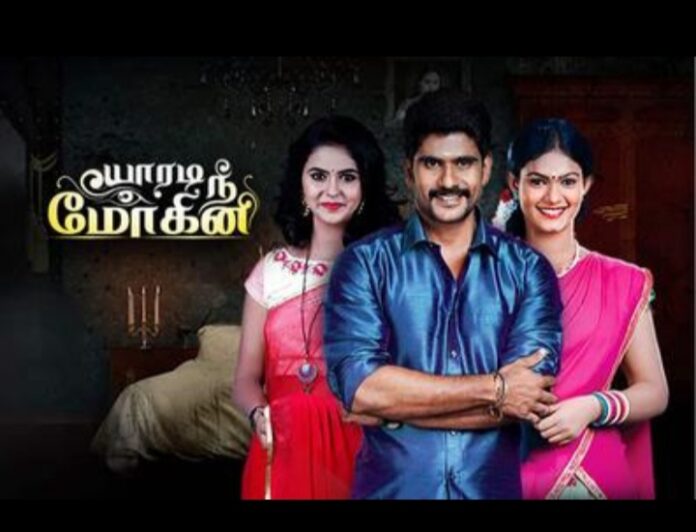 Yaaradi Nee Mohini Upcoming Story, Spoilers, Latest Gossip, Future Story, Latest News and Upcoming Twist, on Justhowbiz.net
Today the episode begins with…. Swetha looked at Muthurasan romantically…. Then she went to washroom… the latter, Muthurasan went to bathroom… Swetha come back and take her phone to bathroom… she phone Nilambari… Nilambari picks up the call… after hearing Swetha voice…. Nilambari overjoyed… asked her to show the face in vedio call…
Swetha video call Nilambari… Nilambari became excited when she saw Swetha yo her original form… Swetha inform that tomorrow I am going to marry Muthurasan… I planned to marry today… Nambothri asked to do tomorrow… we are eagerly waiting for tomorrow… Nilambari said I am became overjoyed….
When you are parrot… how many struggles you faced… this Simbaran, vennila torture you… you have to do something… Swetha said I will throw them out…. don't worry of that… Nilambari said I will throw them… when you enters they won't here… Swetha said when I come to that home… Vennila has to see that and suffer… so that I became happy…. Nilambari said everything happens as per your wish… and ends the call…
on the other side, Vennila is telling the past incident to Kalai…. Kalai show the parrot cage… and asked her where is the parrot… Vennila look around and said i will tell but you should not tell to anyone… Kalai smiles… Vennila came near her ear… and said that is not parrot… that is Swetha…
Muthurasan take her to Nambothri to change her to original form… and said I am waiting for his call… what is happening I don't know… is Swetha change into original form… or not…at that moment Vennila recieves a phone call from Muthurasan…
Vennila picks up the call and cries… Muthurasan console her… and said as per plan everything goes well… One of the disciple standing outside and hears everything… but he is not listening properly… Muthurasan said Swetha change to original form… they prepare for marriage…
Vennila scared and cries… Muthurasan asked her we have to save Krishnan isn't it…. Vennila agrees… Muthurasan asked her to pray to god… At that moment… Nilambari hears Vennila voice… Nilambari arrives near Vennila room.. and looked at her… Kalai noticed that and call her.. Vennila lies to Nilambari and hides the telephonic conversation from her…. Nilambari believes and went… Vennila thanked Kalai and kissed her..
Muthurasan came out… Disciple doubted and going to inform… Swetha is getting ready…Muthurasan came out… Swetha stares at him…and asked him to put the flower in head… Muthurasan said after marriage if I put I will became happy… now there is no kick in this…
Swetha agrees.. and asked him to ready for wedding shopping… Muthurasan said where this Krishnan went..In front of him I have to marry you… Swetha said Nambothri will help… I will go and ask Nambothri and went out…
Swetha asked Nambothri to change Krishnan to original form… Nambothri asked why… Swetha said Muthurasan wish… before him… he marry me… Nambothri said I doubted at Muthurasan…Swetha said he is not like this he changed…
Nambothri said if he acted… Muthurasan listening everything from upstairs…
with this the episode ends….