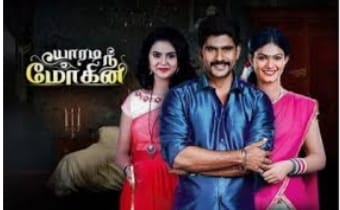 Yaaradi Nee Mohini Upcoming Story, Spoilers, Latest Gossip, Future Story, Latest News and Upcoming Twist, on Justhowbiz.net
Today the episode begins with…. Swetha phone doctor and asked to come after two days… he refused and said I will come today and ends the call… Swetha plan spoil…  Swetha laments by saying my plan spoiled.. Muthurasan surely send out of the home… I m afraid… I pleased Vennila but she said she will reveal… if she reveal… Muthurasan show his anger towards me… he will kill me… I feel ashamed… if Muthurasan scold in front of Vennila… I feel ashamed… before that I will die… Nilambari asked Swetha to be quiet… and scold her why are you speaking like this… I have solution for this…  Swetha asked her to tell…
Nilambari asked Swetha to go out of the house… so that the problem will solve… Swetha asked when I go out who problems will solve… Nilambari said if Vennila reveal the truth to Muthurasan… Muthurasan anger towards you…. if you are out of the house… I will divert him… and said if you go out of the house… I will said she don't Krishnan so that she went out of the house… Swetha said you plan is good… how many days I have to stay out… Nilambari said three or four days… before that all problem will solve then I inform you… you come to home… Swetha asked they will accept me after that… Nilambari said how many problems we faced…. I will bring back to you… don't worry… and as per your wish you will marry Muthurasan… believe me… I have one house I will give that key to you.. you stay there…. I will inform then you come back to home…. pack your things….
Swetha agrees and pack the things…. On the other side, Muthurasan, Rudra, Vennila went to prayer room and Vennila did puja…. Muthurasan and Rudra prays… the latter, Doctor phone Muthurasan… Muthurasan asked Vennila to pick up the call… Vennila pick up the call.. Doctor inform that I will come before 11… you make arrangements… Vennila agrees and end the call… Nilambari and Poongothai send Swetha out of the house…
Muthurasan asked Vennila to take to hall… Vennila take Muthurasan to hall… Muthurasan call everyone…. and said doctor is going… All arrives and stand in front of him…. Muthurasan call one by one by his or her name… while calling Swetha name.. she won't answer… Muthurasan asked where is Swetha.. Nilambari said she went to temple… she will come… Muthurusan said doctor is going to come why she went now… Nilambari call Vennila and said Swetha went out of the house.. she won't come… Vennila said you are lying…. Nilambari said we pleased you… but you said you will tell… so she afraid and went out of the home…
Vennila won't believe her.. she said Swetha will come… Doctor arrives and remove the cotton from Muthurasan eyes… Doctor asked Muthurasan to open the eyes slowly… Muthurasan asked Vennila and Rudra come in front of us… Muthurasan tries to open his eyes…
with this the episode ends……….