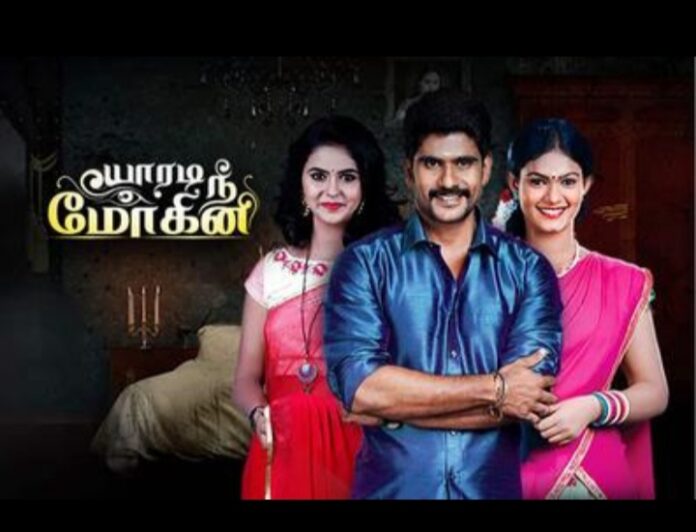 Yaaradi Nee Mohini Upcoming Story, Spoilers, Latest Gossip, Future Story, Latest News and Upcoming Twist, on Justhowbiz.net
Today the episode begins with….Vennila said Chitra's spirit arrives in your body…. she only stopped the marriage… Muthurasan gets emotional and said she is always with me… I prayed to her… she suddenly arrives helped me…
Vennila said I am sacred… Muthurasan asked why are you scared…. Swetha will create problem… Vennila said no… Swetha asked to tie the knot…. Vennila said no… Muthurasan asked then why are you scared… Vennila said you told that within fifteen days… you kill Swetha…. you should not kill her… promise me… Muthurasan reminds quiet…
Vennila asked for a promise…. All reminds quiet… Muthurasan said I won't kill her… but if Chitra kill her…I will cooperate with her… all become overjoyed..and smiles… Vennila said you should not kill her… promise me… Muthurasan tensed….Vennila urged Muthurasan…
Chitra spirit arrives in Muthurasan body…. All shocked… And stand up… Chitra asked Vennila you want promise… Vennila arrives near her… Chitra said I struggled a lot to marry Muthurasan… when Muthurasan wish to marry you… I was very happy… Swetha plan to stop your marriage… after lot of struggle… it happens…
Don't support for her…. she spoil your life… she always create problem…she won't allow you to life happily…. she will surely create problem…. this many days I helped you…. but hereafter…I won't leave her…. surely I will kill her…. so that you be happy… I promise you…within fifteen days I will kill her…Chitra promised Vennila and went…
All become overjoyed…. except Vennila… Chitra spirit arrives upstairs…. Rudra and Uthra standing in the stairs… Chitra touch them and went…. The latter, Rudra brings chocolate for Uthra… Uthra said I don't want… Ruthra asked what happen… Uthra said Muthurasan won't promise Vennila… if he kills police will arrest him… Ruthra said I will stand with Muthurasan… Uthra said I will stand with Vennila…
Uthra said I will win…Rudra said I will win… both argues… and went inside… the latter, Muthurasan is sitting in the dinning hall.. and remember the incident… Vennila serves food and asked Muthurasan to eat…
Muthurasan asked Vennila to eat… Vennila said I will eat afterwards… Muthurasan urged Vennila to sit… The latter, he feed a food to Vennila… Vennila said I have to give food to Rudra and Uthra… Muthurasan said because of me the children are suffers… I don't like that… Vennila said not like that.. she asked Muthurasan to eat..
Vennila went to give food for Rudra and Uthra… Muthurasan sitting upsetly… Nilambari, Swetha, Maruthu looked at him…. Muthurasan going to wash his hand… Maruthu arrives and asked Muthurasan…I have heavy pain do you know… Muthurasan said I don't know… Nilambari said you slapped me… do you know… Muthurasan said I hear this from Janani… Nilambari said you going to kill Swetha… Muthurasan reminds quiet…
Nilambari said I know…you won't do anything…this all done by Chitra spirit… come with me…we will visit Nambothri and send her… Muthurasan went. Swetha asked him stop… Muthurasan tensed… Chitra spirit arrives and strangling Swetha… The latter, she release…
Swetha said I will send you… Chitra smiles… Swetha said I will kill Vennila…you will surely leave Muthurasan… Chitra tensed and bring match box….
with this the episode ends…