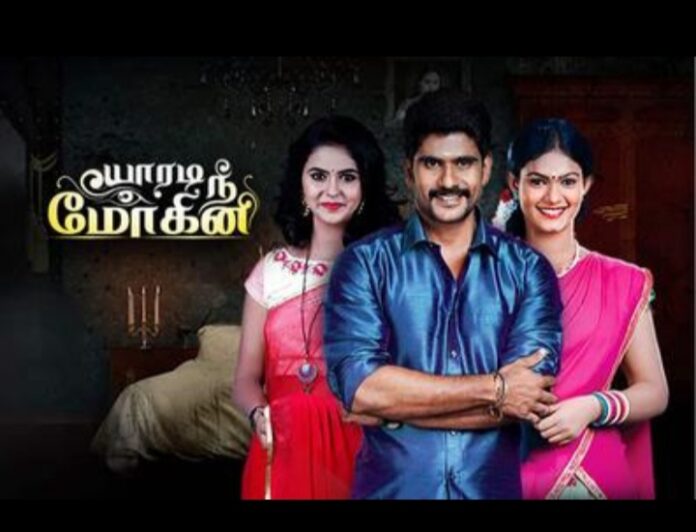 Yaaradi Nee Mohini Upcoming Story, Spoilers, Latest Gossip, Future Story, Latest News and Upcoming Twist, on Justhowbiz.net
Today the episode begins with Vennila sitting sadly in her room. Muthurasan comes to the room and plays with Poonmagal for a while. Vennila sits sadly. Muthurasan calls her twice. She sits in deep thought. Muthurasan calls her aloud. Vennila looks at him sadly. Muthurasan asks Vennila what happened? Why are you sad? Vennila is quiet without saying anything to Muthurasan. Muthurasan urges Vennila to tell. Vennila hesitates to tell.
Later, she pours out her grief with Muthurasan. She says that I fed Poonmagal, Thiruthani will be hungry. Muthurasan asks Vennila what we will do. Vennila says she will compete with me if I go and ask. Vennila slowly looks at Muthurasan to bring Thiruthani. Muthurasan says I will not go. Vennila becomes sad when Muthurasan refuses to bring Thiruthani from Swetha's room.
Muthurasan takes Vennila to Swetha's room. Swetha is busy on her mobile. Muthurasan calls Swetha. Swetha looks at them. Muthurasan asks Swetha's permission to feed Thiruthani. Swetha argues with Muthurasan asks Thiruthani. Swetha hires a woman to feed Thiruthani and tells Muthurasan to ask Vennila to stop feeding Thiruthani. The woman comes to Swetha's room at that moment. Muthurasan leaves the room. Swetha tells the woman to feed Thiruthani in front of Vennila. Vennila says I feed Thiurthani. Swetha says Vennila not to feed Thiruthani. Vennila gets heartbroken and leaves the room.
Swetha tells the woman to feed Thiruthani. Swetha gives Thirutani to the woman. Vennila laments to Muthurasan about Swetha's deeds. Swetha and Poongothai look at her when she laments. The woman calls Swetha and gives Thiruthani to Swetha. The woman says he doesn't drink milk, he doesn't like my smell. Swetha tells her to force-feed. She refuses and leaves the room. Vennila stands in the hall to meet the woman. Vennila meets the woman and asks if Thiruthani drinks enough milk. She says he doesn't drink milk. She tells Vennila to feed Thiruthani and leaves.
Vennila feels sorry for him. Kalai comes to Vennila's room to see Poonmagal. Vennila shares her grief with Kalai. Kalai decides to bring Thiruthani. Kalai goes to Swetha's room to bring Thiruthani. Swetha compels Thruthani to drink bottled milk. Poongothai goes out of the room to get the milk. Swetha and Thiruthani are in the room. Swetha receives a call from Bharani. She goes upstairs to talk to him. At that moment, Kalai goes and brings Thiruthani. Vennila breastfeeds Thiruthani. Bharani inquiries about Kalpana. Swetha fears the worst when Bharani questions. She tries to avoid Bharani's call. Bahrain threatens Swetha when she avoids the call. He inquires about Kalpana's whereabouts.
He tells Swetha to hand over Kalpana and money. He says if you fail to hand over Kalpana I will inform the police. Swetha agrees to hand over Kalpana. She comes to the room. Kalai asks Thiruthani when Vennila breastfeeds Thirthani. Swetha shares with Maruthu about Bharani. Swetha notices that Thiruthani is missing. She confronts Vennila with suspicion over Vennila.
with this, the episode ends.