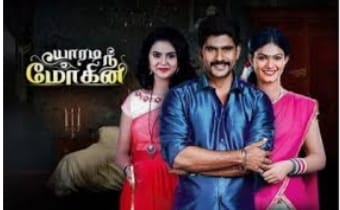 Yaaradi Nee Mohini Upcoming Story, Spoilers, Latest Gossip, Future Story, Latest News and Upcoming Twist, on Justhowbiz.net
Today the episode begins with Krishnan thank Ranjitha and her husband… Ranjitha said your are also like my child… why are telling thanks for that .. Krishnan said I am doing this for Vennila life… Ranjitha said Gokul also said about this… so that we did… Krishnan said within 10 days marriage… Ranjitha asked to do the marriage work… she said I will come for marriage… Krishnan once again thanked them… Ranjitha and her husband left…
Muthurasan, Gowtham, Karthik are sitting and chatting…. Parvathy, Thenrasu arrived near them and said I m going.. Muthurasan asked them to stay… she said its already late…. we have to go home…. Muthurasan asked Parvathy to leave Kalai here… first she refuse. Karthik said if she is here.. she will cure soon… if she is cured we will catch the person… she agrees and leave Kalai there and left…
Maruthu, Swetha, Nilambari became tensed and shocked ….Nilambari, Swetha, Maruthu became afraid and laments by saying is she cured… she will tell everything…. later, All went inside angrily… The latter, Muthurasan asked Karthik to do the marriage work immediately… Karthik agrees… Muthurasan call Appu and praised him…
The latter, Muthurasan became worried and said we have less how will we do it… I don't know and worries… Appu said we are all here to do it… don't worry of that.. Karthik consoles him by saying we will do it grandly… don't worry of that… we are all here to do it…
Muthurasan became happy and asked him to start to work immediately… Karthik agrees.. On the other side Swetha walking here and there tensely…. Nilambari intervenes and asked her to stop… but she won't listen her… and screams by saying everything happens .. marriage is also going to happen… all our plans are spoiled…. I am going to marry Krishnan are you happy…
Nilambari asked Swetha to calm down…Swetha said only 15 days… no other go… Nilambari console her by saying… don't think negativily.. we have enough time… do you know some
marriages are even stopped in the last the minute also.. why are you worrying of that… Swetha said we have to stop this.. Nilambari said we will do it.. don't worry…
Vennila is happily standing in the terrace.. Roshini arrives and asked are you happy… she said I am overjoyed.. Roshini said Swetha is unhappy.. she will some other thing… you have to carefully watch her… till marriage.. before that Muthurasan have to cure… Roshini asked Vennila to phone Doctor… Doctor said we brought new medicine from foreign…. if he put he will cure soon..
Vennila became overjoyed and hug Roshini… Roshini said all good happens because of your baby arrival… Karthik phone Swetha and disgusting her…
Appu visit Muthurasan… Muthurasan is sitting worriedly… Appu asked why are you sitting sadly… Muthurasan said only 10 days.. I m sitting like this.. Appu console him by saying you will get sight soon… Doctor phone Muthurasan inform everything to him… Muthurasan became overjoyed and praised him..
Later, he call Vennila to inform about this… but Swetha is tensed in room.. she removed her engagement ring and throw it away… and went…
with this the episode ends…