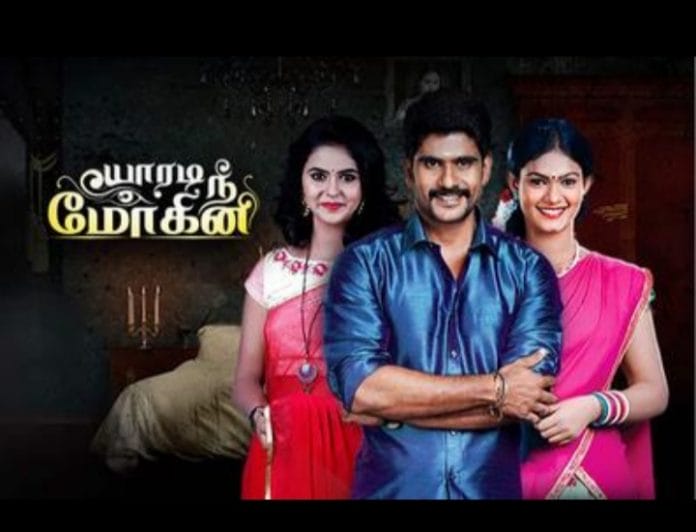 Yaaradi Nee Mohini Upcoming Story, Spoilers, Latest Gossip, Future Story, Latest News and Upcoming Twist, on Justhowbiz.net
Today the episode begins with Gandhimathi, Iniya, Illakiya, Swetha participate in the Kabadi competition. Muthurasan informs Vennila and leaves. Nambothri is looking for Rudra. Anand and Nakshtra on that way to home. On the way, Nakshtra asks Anand to speak something. Anand comes quietly. Nakshtra continues to speak. Anand asks her to remind quiet.
Arjun speaks to Raja. Raja suspects Muthurasan and goes to follow him. Gandimathi team wins the first round. Nambothri is looking for Rudra. Muthurasan suspects that Meenakshi is in Raja's house. Nakshtra asks Anand for chocolate. Anand remembers what Suschitra's said and talks to her happily.
Meenakshi sees this from the window and gets upset. Nakshtra takes selfie with Anand. Elamaran spots Anand and Nakshtra together and gets annoyed. Elamaran follows them. Muthurasan comes to Raja's home. Muthurasan is looking for Meenakshi at Emaraja's home.
Meenakshi is sleeping. Muthurasan calls Meenakshi. Meenakshi notices Muthurasan. Muthurasan searches Meenakshi in other rooms. Meenakshi makes a sound to alert Muthurasan. Muthurasan hears the sound and going towards the room. Suddenly, Emaraja arrives and threatens Muthurasan. Muthurasan tells him to open the door. Emaraja refuses to open the door.
Muthurasan urges him to open the door. Eamraja tells him to go out. Muthurasan says I know how to find the truth and goes. Anand and Nakshtra come home. Elamaran followers Anand and Nakshtra. Nakshtra goes inside to pick up the gift. Elamaran tries to kill Anand. He comes towards Anand with a knife. Suddenly, Anand turns and tries to stop Elamaran.
Elaraman asks Anand where is Meenakshi, she loves you, why are you cheating her. Anand says I love her, I will surely marry her. I will not deceive her. I marry Meenakshi. Elamaran calms down. Anand inquires about Meenakshi. Elamaran says Iniya phones me and tells me whereabouts Meenakshi is. Anand shocks. Nakshtra comes. Elamran hides himself from Nakashtra. Anand tells her to wait outside. Anand says I will find Meenakshi. Elamaran says don't cheat my sister, she loves you.
Nambothri is looking for Rudra. Vennila watches the Kabadi match. Nambothri spots Rudra. He arrives near her and gives her a magical candy. Rudra gets two chocolates from Nambothri. She has a candy inside. She is going to eat one candy. Uthra stops Rudra and takes her with her. Suschitra and Arjun watch the Kabadi competition.
Gandhimathi ploy to win the Kabadi match. Gandhimathi spikes in the juice and give that to opponent team. Opponent members faint. Vasu meets her friend. Vasu's friend asks Vasu to play kabadi. Vasu refuses. Vasu's friend urges Vasu.
Vasu asks Kalai, Simabran, Janani to play Kabadi for there team. All agree and come to ground. Gandhimathi and team stuns. Rudra asks Uthra to bring water. Uthra goes. Rudra eats magical candy. Iniya comes for a ride. Vasu catches Iniya. Gandhmathi catches Kalai. Rudra dizziness. Nambothri catches Rudra. Vennila watching the Kabadi competition.
with this the episode ends…