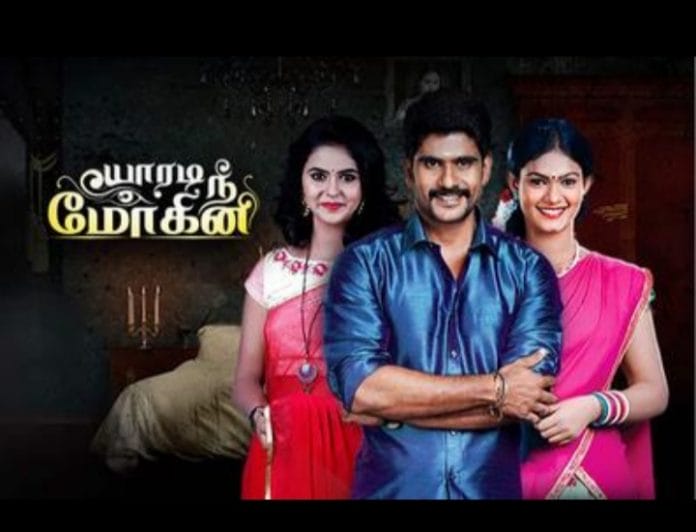 Yaaradi Nee Mohini Upcoming Story, Spoilers, Latest Gossip, Future Story, Latest News and Upcoming Twist, on Justhowbiz.net
Today the episode begins with….Vennila constantly phones Muthurasan…. Swetha is constantly talking to Muthurasan… so he unable to pick up the call… Muthurasan laments by saying..how I escape from Swetha…
Swetha asked Muthurasan to look at the sari, bangle, etc… The latter, Muthurasan said I feels hungry.. Swetha said I already asked you… okay…I will prepare tomato rice for you…. and went…
Muthurasan went out of the room… On the other side, Karthik, Janani, Gowtham, Vennila are scared… Karthik said I phones him… but he won't picks up..what is happening there…. if anything a happens wrong… Vennila sacred… and looked at her phone and worried…
Muthurasan phones Vennila… Vennila become overjoyed… when she received a call from Muthurasan… she picks up…Muthurasan asked why you called me… Vennila said Nilambari create a scene and not allow Simbaran to mount the lamp… Ashok become upset… Karthik calls you to inform that… I stopped him… and said everything to him….
Muthurasan asked Vennila to give the phone to Karthik… Karthik said why you take that parrot to that Nambothri…. why don't you kill that… She never change… she will create problem and not allow us to live peacefully… Muthurasan said if she is like this…. we won't do the same… save Krishnan and marry her with him…
Karthik said don't believe that Nambothri… he will anything… like Krishnan… he will change you too… be careful with him… Karthik asked shall I come there… Muthurasan said I will take care.. you don't worry… asked to give the phone to Vennila…
Due to network problem…. Muthurasan unable to hear her.. On the other side, Poongthai and Nilambari arrives near the room… Nilambari spots Vennila speaking to Muthurasan over the phone.. Nilambari suspects Muthurasan and call Swetha…
On the other side, Swetha is preparing food for Muthurasan… Nilambari phones Swetha and inform that everyone is speaking with on the phone… Swetha said so what… Nilambari said if he mesmerized… how he will talk to everyone… and said I doubted at Muthurasan…
Swetha said he is mesmerized… Nilambari said I think he is acting… Swetha reminds quiet and recall… Nilambari asked Swetha to marry Muthurasan by today… if he agrees… he is mesmerized…otherwise, he is acting…
Swetha said tomorrow any way we are going to marry…Nilambari said I feel something bad… do what I said… Swetha agrees… Vennila worried… Muthurasan console Vennila… suddenly someone asked for a help… Muthurasan ends the phone and went towards the sound… Swetha arrives and call him…
Swetha take Muthurasan to room…Muthurasan unable to see the person… he suspect that this may be Krishnan…how will I save him… and go with her..
Swetha asked Muthurasan to tie the knot…Muthurasan said if I refused…she doubted.. so we will agree..he get the thali and said Chitra help me… Muthurasan acted like Chitra spirit and beat her… Swetha shouted out of pain.. Swetha call for a help… Nambothri arrived… Swetha said Chitra'spirit arrives… Muthurasan looked at Nambothri and acted like faints…
with this the episode ends…..