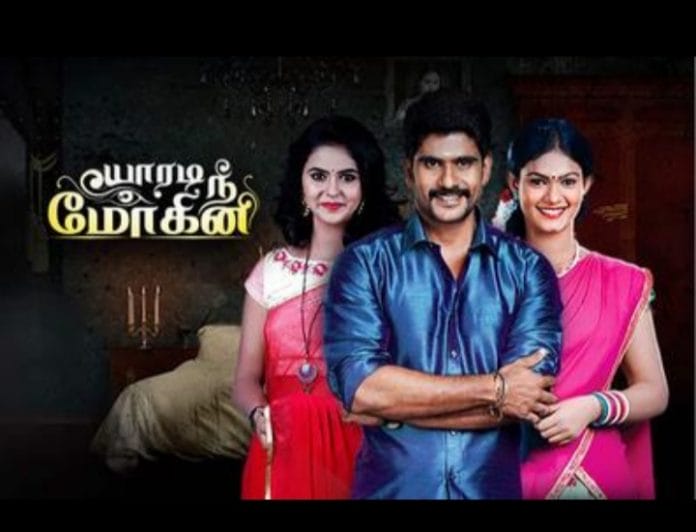 Yaaradi Nee Mohini 21st May 2021 Written Update on JustShowbiz.net
The episode starts with kalai pretends like sick and watching Maruthu acts. Maruthu is in towel and thinks that none is taking care of him after Kalai turned to be sick. Even no one helping him to give tooth paste! Kalai smiles hearing it all. Servant gives the shirt and dhoti to him. She informs to him this is the only clothes dried yet so she ironed it for him. He wears it and goes down. Mutharasan sings a situation song and says to Gautham this song will perfectly match to some persons here. He is keep teasing Maruthu there.
Vennila and Simran calls everyone to take lunch. They places the food on dining table. Maruthu sits on sofa. Mutharasan, Gautham and Simran husband arranged on dining to take food. Mutharasan praises the smell of food to tease Maruthu. Maruthu thinks that no one calling him to take lunch. His ego is not allowing him to go and take lunch with them.
Gautham and Simran husband are keep praising the Vennila's hand made food. Mutharasan tastes it and praises it while checking Maruthu reaction. He is staring them eating in hungry. He wishes to call Poongothai to serve him later think that she will deny it reasoning something. He thinks that Swetha didn't even gave paste to him how will she serve to him? Gautham asks Janani to learn cooking like Vennila soon. She nods to him. Mutharasan says to them he ate full. He wants to eat Betal leaf now to digest the food. Vennila informs to him she alredy arranged for it. Vennila helps him to take the betal leaves. Mutharasan eating the banana along with Gautham and Simran's husband. They are praising their wives to tease Maruthu. Maruthu thinks it's better to serve himself. He dreams like Kalai serving to him. Gautham teases him and stop dreaming.
Maruthu serves food to his plate. He starts eating it in hurry. He starts hiccup there. He searches for water but it's empty. Vennila wishes to help him. Mutharasan stops her. Maruthu takes water in his own and drinks it. Mutharasan says to Maruthu if he calls Kalai leaving his ego she would have serve to him? Maruthu complaints to him what's the need to he call his wife? Doesn't she know to serve him food? Mutharasan complaints to Maruthu that he has an male ego. First try to treat his wife well then she will also treat him well. He asks Maruthu to learn respecting woman first. If he continue behave like this then he don't even get food to eat. Maruthu leaves from there angrily. Kalai gets upset. Mutharasan asks her to be patience he will change soon.
Vennila prays to god and notices her nuptial chain is about to break. She calls Mutharasan and asks him to tie the yellow rope to her neck then she will tie it with the nuptial chain. Mutharasan tire the knot with her again. Gautham and his brother teases him for marrying Vennila again and again! They teases him. Vennila ties the chain with rope. Mutharasan makes her wear the nuptial chain. Simran feels happy for her.
Episode end.