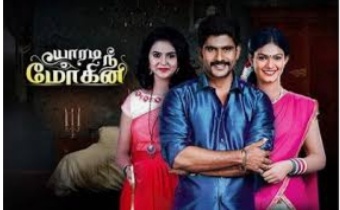 Yaaradi Nee Mohini Upcoming Story, Spoilers, Latest Gossip, Future Story, Latest News and Upcoming Twist, on Justhowbiz.net
Today the episode begins with…..Vennila dresses up as Appu and arrives in front of Muthurasan…. Appu call Muthurasan… Muthurasan looked at Appu and asked where you went…. where is Vennila…. are reminds quiet…
Appu removed the whig and said I am Vennila… Muthurasan became shocked and asked Vennila why are you disguise like this… Vennila reminds quiet….. Muthurasan asked when you are acted like Appu then who acted like Vennila…
Nilambari, Maruthu, Poongothai, Swetha became frightened and reminds quiet… Muthurasan shouts loudly and asked them to tell… and asked why are you acting like this…
All reminds quiet… Muthurasan screams and became confused…. asked to tell… Vennila said I will say…. Vennila said Swetha acted like Vennila…

Muthurasan asked when you are her why should he act…. Vennila apprises to Muthurasan by saying… when we return to honeymoon … we meet with a accident… at that time you lost the sight… I am in comma… that time you asked me… Doctor said Don't tell any shock news.. so Swetha started act like me..
She tries to marry you… she tries to kill me… she kidnap me… I escape… and tries to met you… but she threatens by saying if you come home… I will kill Muthurasan and Rudra… so I am afraid… at that time they search a chef… I disguise and join her… Swetha tries to get 'Thali' from your hand… but stopped many times…
later, she visit Nambothri to marry you… that Nambothri said I am in your home… so they kidnap me and they tries to change me as parrot… that time only you arrives and saved me… Muthurasan became shocked… and became anger…
Muthurasan angrily looked at Swethaand scold her by saving why are behaving cheaply.. when will you change.. asked to come in front of him…
Muthurasan asked Swetha why are acting like Vennila… Swetha said to save you… Muthurasan scold her badly… Muthurasan came near Vennila and asked when you are Appu… we were alone…. we went to temple… why can't you tell that time…Vennila said doctor not tell any shock news… so that I won't..
Muthurasan said this you have to tell before why can't you… Vennila said if I said this will affect your sight.. so that I reminds quiet… Muthurasan asked Vennila to bring the whip…. Vennila hesitate…
Muthurasan screams and asked her to bring a whip… Vennila went inside… and brought the whip… and gave to Muthurasan… Muthurasan remove the whip…

Swetha became afraid… the latter, Muthurasan gave that whip to Vennila and asked her to beat… Vennila hesitate… to beat her… Muthurasan asked her to beat… Vennila said if I beat her she won't change… give one chance for her to change…
Muthurasan looked at Swetha and said you tries to spoil her life… she do good for your… Muthurasan said tomorrow Swetha marriage…
Vennila said I hide one more thing from you… Muthurasan asked what Krishnan is my relatives…. Muthurasan said its okay… an asked Krishnan tomorrow marriage are you okay…
Krishnan said I am okay….
with this the episode ends…