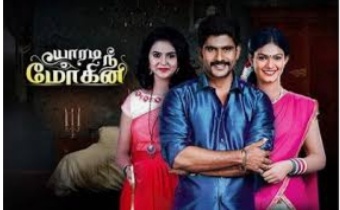 Yaaradi Nee Mohini Upcoming Story, Spoilers, Latest Gossip, Future Story, Latest News and Upcoming Twist, on Justhowbiz.net
Today the episode begins with… Muthursan became furious…. and shout at Swetha…. Vennila console him… and asked Muthurasan to do the marriage… Muthurasan agrees and said tomorrow your marriage… Krishnan and other became overjoyed….
Muthurasan asked her to leave…. she remind quiet and stand in front of him…. Mutharasan went inside the room angrily… Karthik,Gowtham, Janani, Azghappan congrats Krishnan.. Swetha, Nilambari reminds quiet and anger…
Swetha upsetly went inside the room… Maruthu, Poongothai, Nilambari follow Swetha… All sitting sadly inside the room… Marthu screams by saying all happens because of Vennila… if we kill her before this problem won't come… Nilambari asked Maruthu to be quiet… Poongthai said today we escape…. I she beat her…. Nilambari asked to be quiet… Maruthu screams by saying why should I be quiet… they bring Kalai to home… if she discloses the truth… Muthruasan will kill everyone…
Before that I have to kill Muthurasan… so that the problem will come to an end… Nilambari scold Maruthu and asked to speak properly… Maruthu said if I am quiet tomorrow Swetha marriage happen… Swetha said this is my life…. I know how to tackle… please don't in my life…
All reminds quiet…On the other side in Muthurasan room…. Muthurasan is standing angrily… Vennila arrives near him and asked why are you anger?…. with whom are you anger?…. Muthurasan said I am anger at Swetha, Poongothai… and you also and turn his head…
Vennila reminds quiet and the latter, she arrives near him and said I want to tell something… Muthurasan asked what… Vennila came closer to Muthurasan and bring his hand to her stomach… and asked him do you remember… when you are in hospital… I kept like this… Muthurasan said yes… Vennila said you are going to became a father… Muthurasan became overjoyed and asked her once again…
Vennila said you became a father…. Muthuarasan asked Vennila are you lying…. Vennila said I am lying… you are going to became a father… Muthurasan became overjoyed and hugged her… Vennila said twins…Muthurasan cries out of joy…
And asked Vennila did you inform to family… Vennila said no I won't inform to anyone… Muthurasan said shall we inform to everyone..Vennila agrees…
Both went out of the room… and call everyone.. Karthik asked what… Muthurasan said Vennila is pregnant before everyone… all became overjoyed… Nilambari, Poongothai, Swetha, Maruthu became shocked and upset…
Rudra hugged Vennila… Muthruasan said she is blessed with twins… family became overjoyed and congrats Muthurasan.. Janani hugged Vennila and congrats her… family is overjoyed… Muthurasan asked Karthik to distribute sweet for whole village… Karthik agrees…
Muthurasan noticed Kalai..
 he came near Kalai and said you are going to cure soon… I believe on you… don't worry… and said you are going to see my child… soon.. the latter, Muthurasan asked Vennila what do you want… ask anything… I will do everything for you…
Vennila asked to Muthurasan to give one chance for Swetha…
with this the episode ends…