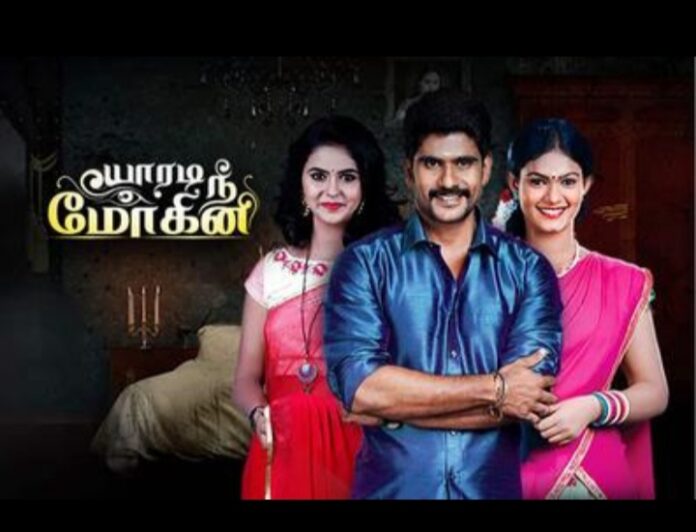 Yaaradi Nee Mohini Upcoming Story, Spoilers, Latest Gossip, Future Story, Latest News and Upcoming Twist, on Justhowbiz.net
Today the episode begins with… Swetha ends the call and came out.. Muthurasan is not there… Swetha search Muthurasan everywhere…. On the other side, Muthurasan in serach of Krishnan…
Swetha become scared and laments by saying… where Muthurasan went… today marriage.. where he went… and search Muthurasan everywhere… she won't find him anywhere… then, she laments by saying is she went somewhere to escape from marriage…
on the other side, Muthurasan in search of Krishnan… everywhere… Swetha arrives near Nambothri and inform that Muthurasan is missing… and said today marriage… where he went… is he ran anywhere… Nambothri said I already suspect him…. Swetha said I call Nambothri… she too suspect him…. and said in home they are doing puja.. to save Muthurasan..
Why they are suddenly doing puja…to save Muthurasan… and said he won't marry me… and upset… Nambothri said don't worry… with my power we will find him… come with me… I will show you.. where he is…
Swetha went with Nambothri… on the other side, Muthurasan keep on searching… suddenly he hears some sound… he go to that side, the sound comes from one jute bag… Muthurasan go near than and open the bag… and shocked…
Muthurasan looked at Krishnan and shocked.. and worried for him… Krishnan asked Muthurasan to save… Muthurasan said I am here to save you…but how will I save you… Krishnan said one of the disciple talking with Nambothri… that time I heard.
In wood box green stone is there… if you bring and put it in my head … I will turn into my original form… Muthurasan agrees and search the wood box… everywhere…
on the other side, Vennila, Kalai, Pooja, Simbaran, are preparing the lamp… Maruthu arrives and stop the puja… Maruthu asked Kalai to cook chicken… Vennila said puja is going on… tomorrow I will prepare…
Maruthu said after long days I am asking… you are refusing… I am not important for you…Vennila said puja is going on… Maruthu said I will see how you perform puja… and went angirly… and bring table fan and put out side the puja room.. Janani, Kalai asked him to stop… but he won't…
Vennila call Karthik…. Karthik arrives and stopped him… Gowtham switch off the fan… Maruthu bring a strike to break everything… Karthik stopped him…. but he can't… both fights….
Vennila asked Karthik to leave him… but both fights..Nilambari arrives and asked them to stop… and enquire what is going on… Maruthu said I asked Kalai to prepare chicken… but they say… they are doing puja so they won't… Nilambari asked Vennila why are you spoiling Kalai life… g and bring her…
Simbaran said they are planning to stop the puja… go and stop them… Karthik stop Maruthu… Nilambari asked Poongothai to stop the puja.. Janani stop Poongothai… Nilambari tensed and going to stop… Vennila stopped there…
The latter, they take them to room and tie them in the bed… and said this puja will happen…
with this the episode ends…