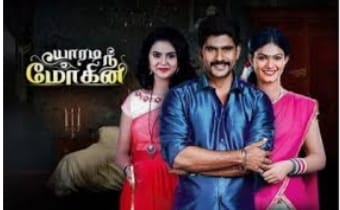 Yaaradi Nee Mohini Upcoming Story, Spoilers, Latest Gossip, Future Story, Latest News and Upcoming Twist, on Justhowbiz.net
The episode begins with Voice specialist trained Vennila.. and asked her to practice more…  and urge her to speak like a man… Vennila agrees and try to talk like a man… She changed her voice and spoke like a man….. The voice specialist appreciated Vennila.. Later, Roshini appreciated Vennila…and said this male costume and voice suited for you… Roshini became happy and thanked Voice specialist.. Later Vennila thanked Voice specialist…. then he went…
Roshini and Vennila became happy… Roshini noticed her "metti" and asked her to remove but she refuse… Roshini asked her which one you want this "metti" or Muthurasan… She think for a while and agrees to remove the "metti"… Later she puts the "metti" in ring fingers.. Roshini appreciated her by saying this is a new model…. hereafter I will suggest this idea to my customer..  Then both decided a name for Vennila…  Vennila suggest the old name… so Roshini refused…
Roshini named as Appu.. Vennila agrees.. Roshini changes Vennila's name to Appu… and make a phone call to Swetha to inform about the arrival of Appu.. but she won't pick the call..
In the home Nilambari holds a contest between the cooks.. she asked the contestant to make "Milk payasam" and said whose "payasam" is tasty and liked by our family members….I will appoint him as a cook… All contestant agrees… Nilambari asked Poongothari to show the Kitchen.. All went to Kitchen..
Swetha asked Nilambari did you select anyone.. Nilambari said we should choose a chef better than Vennila… Sudden Swetha received a phone call from Roshini.. Roshini asked her shall I send one chef… Swetha inform that to Nilambari.. Nilambari  said we have already four… okay ask him to come soon.. Swetha informed to Roshini.. Roshini urge Vennila to go quickly… Vennila left…
Karthi asked Nilambari what is going on. And shouts..No one is bother about Vennila…  Nilambari asked him to shut the mouth and asked him to go and search Vennila.. Karthi went out…On the other side Vennila is coming in the auto …. She urges auto man to go fast..
Rudra distributes the missing leaflet of Vennila to everyone.. and enquire everyone did you saw my mother anywhere.. if you see  her please inform to the give number..  Suddenly auto breakdown… Vennila urges auto man to do fast..  On the road side Rudra distributes the leaflet to everyone..  Rudra came near Vennila and distribute the leaflet to Vennila…. and asked her did you saw my mother.. Vennila became speechless..  Vennila said I say our mother in temple.. next time I saw her I will inform to you and went…
On the other side Maruthu showed Vennila photo and enquired in the shop…. In the home Nilambari tasting the "payasam" one by one.. Swetha received a call from Maruthu .. He explain everything to Swetha.. Swetha became upset and said we have to catch her…
Vennila arrives and stand near the entrance….
with this the episode ends…