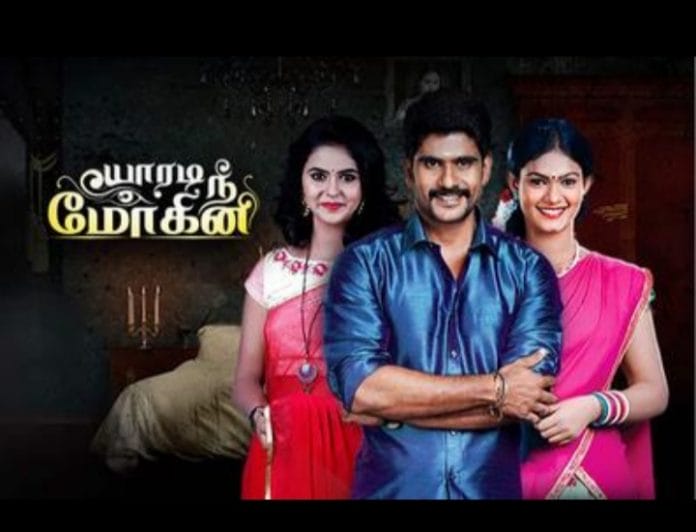 Yaaradi Nee Mohini 25th May 2021 Written Update on JustShowbiz.net
The episode starts with Janani informs to Mutharasan what happened in Kalai room. Mutharasan think that Maruthu won't change it seems. How much they tried to made him understand the value of Kalai but he is not understanding at all. He wishes to do something big to make him understand Kalai value. Karthick is giving foolish idea to Mutharasan. Karthick shares to him let Maruthu paralyzed then he will understand Kalai value. He will start love her too.
Gautham informs to Mutharasan let's mix stomach upset medicine in his food. Then he will be on bed rest and Kalai will help him to get back well. Their chemistry will be work out. Mutharasan asks Gautham to be quiet instead of giving such bad ideas. Janani asks Gauatham to save his name at least. My that as a new questions Karthick Is he a director? Why did he sharing such old idea to him. Pouring oil on floor is very bad. Even serials won't use this idea now.
Mutharasan complaints that they are giving idea like Swetha. He explains to them he wanna do something simple but result will be strong. Mutharasan shares Thiruvilayadal movie scene to them. Everyone appreciates his idea and wishes to follow it. Rudra says to Mutharasan that Vennila will definitely ruin this idea somehow. She complaints that Mutharasan can't able to sit quietly without mentioning Vennila name same goes to her also she can't able to live without calling him as Muthu mama.
Rudra gives idea to Mutharasan and asks them to behave in that way. Vennila refuses to do it. Janani advises to Vennila that she wants to act like its happening for real. Vennila agrees to do it. Karthick asks Mutharasan to start the act. He nods and starts calling Vennila to come there
He is scolding her for not bring coffee on time. Vennila complaints that why did he rushing her? Mutharasan says that she only know to talk a lot but not able to prepare a coffee. He complaints that her coffee is not tasting good. Vennila is pretending to him that she is taking with him nicely. Maruthu thinks what's going on here? He comes out to check along with Kalai.
Vennila and Mutharsan are pretending like arguing with each other. Kalai comes there to separate them. Mutharasan complaints that she is not doing anything but talking a lot. Vennila complaints she is not eating for free here. She is working a lot in this house. Mutharasan says to her he is men and he is going out to work in this pandemic situation too. Doesn't she enjoying in this house and ordering the servant here?
She is doing everything in his money. Vennila complaints that they are feeling better in home because of ladies. They are maintaining the peace in this house. Mutharasan complaints that he can buy anything for money. Vennila says that ladies are backbone of this family. Rest all too supports Vennila there. Mutharasan keeps keeps complaining Vennila. Vennila asks Mutharasan to go and eat outside instead of complaining her.
Mutharasan keeps acting there and hits his leg with table. Vennila gets tensed to see him wincing in pain. Karthick says that all acting went waste. Kalai gets surprise to hear it. Vennila is taking care of Mutharasan there. Karthick and Janani praises their love for each other. Maruthu is listening to all in silent. Mutharsan advises to them don't dare to fight with waves then Lakshmi won't come inside the house. Kalai informs to Mutharasan that she understood now why did they pretended like arguing? She says to him that he is looking down on his brother. He won't change at all.
Episode end.