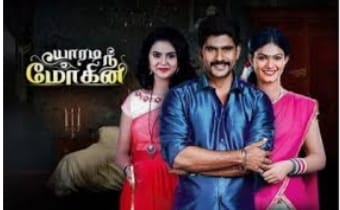 Yaaradi Nee Mohini Upcoming Story, Spoilers, Latest Gossip, Future Story, Latest News and Upcoming Twist, on Justhowbiz.net
Today the episode begins with …..Swetha went to room and plan to stop the marriage… she is thinking for a idea to stop marriage… On the other side, Muthurasan telling story… Muthurasan came near Vennila stomach and said you should brave like father… and you should be kind hearted like your mother… but you should not fool like your mother…
Vennila said I am not fool… Muthurasan said you are fool… so that all are easily fool you… you believe every one easily… and said because of you I forgive them… otherwise… I won't… and said I grow with up brave and kind hearted…. and came near stomach and asked to sleep the babies and said good night…
Both spend some quality time together… the latter, Muthurasan asked Vennila to sleep.. Vennila agrees.. but she won't close her eyes… she just lying and looked at Muthurasan constantly… Muthurasan asked her to close and sleep… The latter, Muthurasan kissed in her forehead… Vennila sleep..
Karthik, Janani, Gowtham, Azghappan, Krishnan are sitting and discussing about arrangements for marriage..Karthik asked Krishnan to go and sleep… Krishnan refused and said if I go I sleep heavily…. Karthik said then go and sleep… tomorrow marriage if you won't sleep properly… tomorrow you feel tired.. go and sleep.. don't worry of Swetha… we are here.. we will watch her and I arrange goon's also if she tries to escape they will inform… I also get her car key… so she tries to escape we will catch here… you don't worry… and go and sleep for a while… Krishnan agrees and went to room…
Maruthu won't sleep… he walking here and there in the entrance… Poongothai noticed him and came near him and asked why are you walking here… go and sleep.. Maruthu said how will I sleep… Muthurasan arrange for Swetha marriage… if this happens… that's all… … every time I am asking money…. I feel ashamed…
We have to stop this marriage… Poongothai said we have to stop… Maruthu said if anyone death… surely tomorrow marriage stop… Poongothai asked what… Maruthu said Kalai is always a problem… if she discloses the truth… that became a big problem… so i decided to kill her… if I killed her… my problem and Swetha marriage also stop…
Poongothai became afraid… Maruthu said don't became afraid… I will finish everything and inform…. Poongothai went inside… Maruthu went to Chitra room to kill Kalai.. Maruthu bring spiked milk in front of her… he tries to feed her… suddenly chitra' spirit arrives and stopped Maruthu and beat him with Kalai hands… Maruthu became confused and search who is beating… he once again tries to give the spiked milk… Chitra's spirit stopped him and beat him with Kalai hands… she beat heavily.. Maruthu faints…
Chitra said when will you change… we won't kill anyone … I will save Kalai and Vennila… and went inside… and talk to Kalai that… don't worry … I am there for you…. I will save you….
with this the episode ends….