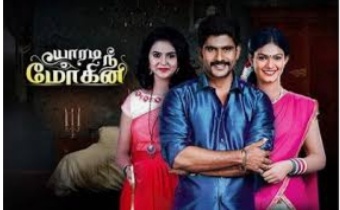 Yaaradi Nee Mohini Upcoming Story, Spoilers, Latest Gossip, Future Story, Latest News and Upcoming Twist, on Justhowbiz.net
Today the episode begins with… Swetha went inside the room and locked the door… and thought for a while… to stop the marriage… the latter, through window she looked at the hall… Karthik, Azghappan, Janani, Gowtham are sitting and arranging for marriage… Swetha looked the window and sit in the bed… she remember that incident…. Muthurasan wan her and forgive her… and asked her to marry Krishnan… she remember everything and became upset… suddenly she look at phone…
She thought for a while then she phone Nambothri… Nambothri picks up the call… Swetha asked Nambothri I believe you.. but you escaped… Nambothri said in my life I never failed but I failed that day… if I won't escape from that place.. he will kill me there itself… I failed before Karuppanswamy.. Nambothri asked Swetha why you are called me…Swetha asked to do one favor….
Nambothri asked what…. Swetha said I believed you.. but you failed so they planned for my marriage… I won't marry anyone except Muthurasan… they arrange marriage… now I have no other go… so you change me as a parrot… Namabothri became shocked and asked why… Swetha said no other go… so you have to do that for me… Nambothri agrees and asked her to send one photo.. and asked her to do puja in her room itself…
Swetha asked how… Nambothri asked her to door the door.. and do the puja till next morning… and said tomorrow morning after sun rise you turn as parrot… Swetha agrees and ends the call… Swetha went out the room… and went to Nilambari room.. Nilambari hugged Swetha and cries… and said we tries to stop the marriage… but all fails … tomorrow marriage is going to happen..  and hugged and cries… and asked to apologies…
Swetha said don't worry for that… tomorrow marriage won't happen… Nilambari asked how… Swetha said I talk to Nambothri… I asked to change me a parrot… so that the marriage will stop… Nilambari became shocked.. and asked why are you changing… Swetha said this is the only way to escape from the marriage… if I turn into parrot… marriage will stop… Nilambari asked if you turn into parrot how will you marry Muthurasan..
Swetha said now I have to change as parrot… later, I will think of that and with the help of Naga Nambothri I will come to my normal form… Swetha hugged and went out of the room… then she went near the Muthurasan room through window.. she looked at Muthurasan and said I am going now.. sure one day I come and marry you… I can't leave you… i marry only you…. otherwise  I will die…now  I go… but one day surely I will come and marry you… and went inside to her room…
Locked the door and window…. sit in the floor and send one photo to Nambothri and cries… the latter, she performs puja….
with this the episode ends……