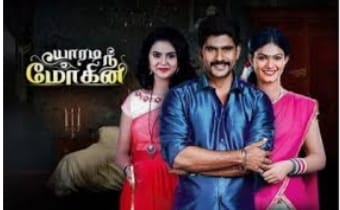 Yaaradi Nee Mohini Upcoming Story, Spoilers, Latest Gossip, Future Story, Latest News and Upcoming Twist, on Justhowbiz.net
 This episode starts with Chitra try to wake up Muthurasan but Muthurasan wont wake up Chitra find why he won't wake up you have save Venenila what happen mama get up …..Get up…. then she found that there is a rose near Muthurasan she take that and said because of this smelling flower you fall asleep.
 Chitra's spirit searches for the herbs that would awaken Muthurasan. Chitra went to forest and search Vennila and herbs to awake Muthurasan. Suddenly she saw Mohini there. There is a fight between Mohini and Chitra.
On that time in pooja Namboothri faces several obstacles during the pooja. Namboothri find that there is spirit her that continually disturb my pooja who is this for this Nilambari that is Muthurasan First wife still her spirit is alive like that she said.
On the other side Chitra's spirit continually fights with Mohini to save Vennila. Chitra's spirit saves Vennila and takes Vennila to Muthursan. Chitra showed the herbs to Vennila and Muthurasan.
Finally both awaken and they both talking and laughing. Chitra said that you both should happy like this always and she went. Namboothri is constantly doing pooja. Muthurasaran and Vennila went to next room and search for Mohini………But Mohini is not there. Muthurasan hug vennila they romance each other and went into the room.
 On the time Muthurasan saw the phone there is a missed call 5 from Karthi .Venelia ask Muthurasan mama to call Karthi. Karthi ,Gotham, Azghappa are in temple. Muthurasan call karthi. karthi pick up the call and ask Muthurasan Anna are you ok Anni is ok constantly asking.
Muthurasan why what happen I am ok your Anni is also Ok what happen …….Karthi I dreamt very badly so that I am asking like that he said then he talk to Vennlia Anni and then he talk to Muthurasan suddenly Muthurasan hear a loud samy song from the other side for this Karthi replies sound from near temple and the call ends.
But Muthurasan not happy about his respond how this sound from temple now……..during 11'oclock ….. Muthurasan doubt of this sound… What happen to this Karthi .it's something wrong he is hiding something from me.
Muthurasan thinking that anything happen to Chiti he is hiding that one why he is calling. Muthurasan continually thing of that. Venelia said that then call to Chiti and check whether she is alright.
For this Muthurasan said that don't mistake me Venneila…….for this she replied "If our elders was good we would be good too……" Muthurasan smile at Venneila and he make a phone call to  Chiti……
 the episode ends……………………