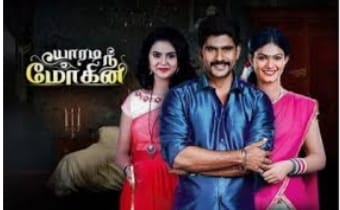 Yaaradi Nee Mohini Upcoming Story, Spoilers, Latest Gossip, Future Story, Latest News and Upcoming Twist, on Justhowbiz.net
Today the episode begins with Karthi scold Swetha by saying…those who care for Muthurasan should be responsible for taking care of Muthurasan even in temple. Swetha became anger and speechless… Muthurasan calmed him and asked Appu to put coffee for all. All went inside.. Appu get blessing from Nilambari.
Later, Appu joyfully enter into the kitchen and prepare coffee to for..and brought coffee to Muthurasan room and gave to him..Muthurasan smell the coffee and appreciated him…
Muthurasan thinks about Vennila as he sips the coffee made by Appu. Muthurasan appreciated Appu.. Appu asked him hereafter can I take you to walking…can I laundry our clothes.. Muthurasan accept and appreciated Appu by saying you are like Vennila.
Appu said you are going to forgot Vennila before my food… Muthurasan said Vennila is everywhere.
she is in my heart, brain, nerves…she is not only my soulmate she is everything for me…later, Appu asked to apologize.. Muthurasan wan him and said hereafter Don't talk like this…Appu gets emotional on hearing Muthurasan..
Nilambari, Swetha,
Maruthu,Poongothai,Veera are sitting together and chatting.. Nilambari enquire Swetha why are you leave him alone? she said I went to shop there I met Devaraj MLA and I asked him to help… Nilambari said I rejected this Appu but once again he came ….Swetha convince her by saying Roshini send him other than that he is like an innocent..
Suddenly Appu bring coffee for them..Nilambari said I am the mistress of this house..you have obey me first.. later you have obey Swetha…if won't obey us then you will face the consequences.
later Poongathai wan Appu by saying You should not go out and tell anyone what we are talking about. Appu agrees and said hereafter I will faithful to you…
Nilambari explain every thing to Appu and asked him to act accordingly… Appu agrees.. then Swetha showed the poison bottle and threatens him… Nilambari and Swetha thrwatens Appu and asked him to faithfully to them.. Veera said hereafter we will constantly test you… if you pass in the test we will agree you… and asked him to act accordingly…Appu went out of the room.. cries …
Rudra said to Karthi that I already saw Appu… Janani, Azhagappa, Gowtham come together and said yes we already saw Appu… at that moment Appu bring coffee for them. Karthi thanked him.. Appu gave coffee to everyone.. Everyone thanked Appu.. Appu gave two coffee to Azhagappa.. Azhagappa said Vennila alone did like this …how you know … Appu mock Azhagappa.. all laughs..
Karthi asked Appu did you see Vennila in temple.. Appu said yes I saw her. Karthi said Swetha threatens Vennila so that she hide herself somewhere …if you see her please inform it to me…and Don't inform to Swetha .. Appu said Swetha informed me that she is going to marry Mutharasan..
All shocked….. after Appu 's speech..
with this the episode ends…