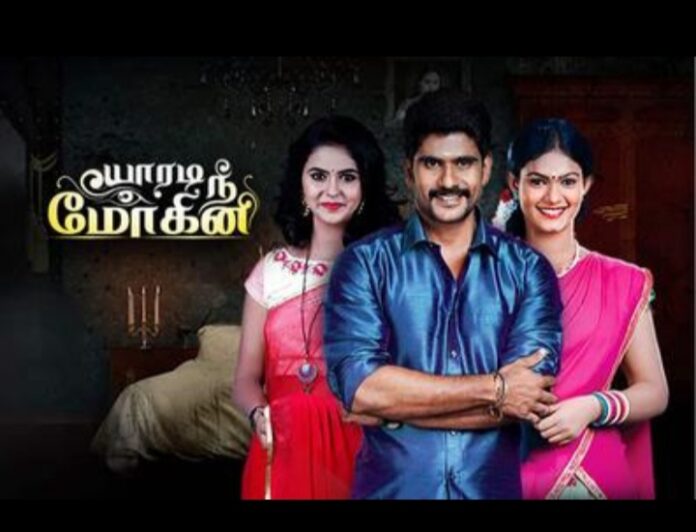 Yaaradi Nee Mohini Upcoming Story, Spoilers, Latest Gossip, Future Story, Latest News and Upcoming Twist, on Justhowbiz.net
Today the episode begins with Muthurasan meets Krishnan at the mill. Muthurasan shares about Swetha's atrocities with Krishnan. Muthurasan shares about the past with Krishnan. Muthurasan pours out his grief with Krishnan. Krishna comforts Muthurasan when he pours out his grief with him. Krishna says I should have married Swetha. Muthurasan says she escaped from the marriage and turn into a parrot, and she acted like a corpse and get thali. Muthurasan says she will do anything. Krishna says I should have married Swetha, if I married here she won't be like this. Muthurasan says that she knows about everyone's weakness and their strength and moves accordingly.
Muthurasan says to Krishnan that Swetha tortures Vanilla emotionally with the child. She compels me to accept the baby as my child. Muthurasan shares his grief with Krishnan. Krishnan comforts Muthurasan and says that one day the truth will come out. Muthurasan says with a false DNA test she tortures the family. Krishna comforts Muthurasan by telling some proverb. Muthurasan gets a hint about Swetha while speaking to Krishnan. Muthurasan decides to find out the truth behind Thiruthani. Muthurasan decides to visit the hospital to find the truth. Muthurasan informs Krishnan and leaves the place.
Vennila spends time with Poonmagal. Kalai putting sambarani for Poonmagal. Vennila informs Poonmagal that today doctor will come and put the vaccine for you. At that point, Two nurses come to Muthurasan's home to vaccinate Thiurthani and Poonmagal. Vennila and Kalai welcome them. Kalpana surprises to see Muthurasan's big house. Kalai shows Swetha's room to Kalpana. Swetha inquires when Kalpana suddenly arrives. Kalpana says I know everything about Thiurthani. She tells Swetha about the secret of Thiruthani's birth.
Swetha and Poongothai fear the worst. Kalpana informs Swetha that I came here to vaccinate Thiruthani. Swetha says no one tells me about this. Kalpana says a mother will know it. She insults Swetha. Kalpana demands money from Swetha. Swetha refuses. Kalpana blackmails Swetha when she demands money from her. Kalpana threatens Swetha that if you won't ready to pay, I will go and get it from Vennila. Swetha is scared to see Kalpana.
Kalpana expects one lakh from Swetha. Swetha refuses. Kalpana blackmails Swetha. Later, Swetha agrees. Swetha warns Kalpana and ready to give money. On the other hand, Vennila scares to see the vaccine. Vennila gives Poonmagal to Kalai for vaccination. She closes her eyes when the nurse injects. Kalpana decides to get money from Swetha.
Muthurasan visits the hospital to find out the truth. Gotham and Janani come to the hospital to investigate Thurithani's birth. They notice Muthurasan and hide them from Muthurasan's eyes. Muthurasan gets Kalpana's number from the hospital reception. Kalpana shares everything with his uncle. At that point, Muthurasan phones Kalpana to find the truth. She didn't pick up the call when the Muthurasan contact. Kalpana decides to get money from Swetha. Muthurasan rings to Kalpana. Kalpana avoids Muthurasan's call.
with this, the episode ends.