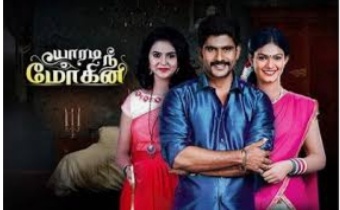 Yaaradi Nee Mohini Upcoming Story, Spoilers, Latest Gossip, Future Story, Latest News and Upcoming Twist, on Justhowbiz.net
Today the episode begins with … Muthurasan and other search Swetha everywhere… and return home… Vennila asked did you find Swetha… Muthurasan said I don't find her anywhere… I send Karthik and Gowtham too..
The latter, both arrives and said she is nowhere… Where she went… Nilambari speak to herself that she turn into parrot… you unable to catch her…and smiles…
on the other side…. the parrot visit Naga Nambothri… Naga Nambothri invite Swetha and said why you came here.. Swetha said I want to marry Muthruasan… if I am like this how will I marry him… Naga Nambothri said you asked so that I changed you.. Swetha said I want to escape from my marriage.. so that I asked to change . ..
But my intention is to marry Muthurasan…. please help me… Naga Nambothri said…. Muthurasan was the first person who spoiled my puja… and one beat me… I won't leave him… I will help you…dont woody… believe me… you will marry Muthurasan… Swetha asked Nambothri Vennila is there… how is this possible…
Nambothri said first you go to that home… and sit in front of us… they will admire with your beauty… you bring Muthurasan here.. I will mesmerism him… then he will marry you.. then no one will stop your marriage… parrot became happy and fly to Muthurasan home…
All became confused… and said where she went… Krishnan said don't search her… leave it.. she constantly trouble Vennila life… so that I agrees to marry her… but she escape…hereafter no problem will come.. just leave it… Nilambari create a scene by shouting… she is my brother daughter… how will you leave it like this… mind your words… who are you… you don't have right to speak…
Muthrasan asked Nilambari be quiet… and said he has alright to speak… Nilambari angrily went inside… Muthurasan said don't take it serious Krishnan… we are hiding… you said… that it… Janani said why can't we ask the priest… he will help us…
the latter, Muthurasan is standing angrily… Vennila bring fruits for Muthurasan… she came near Muthurasan… Muthurasan said I am in anger… because of you I forgive her …but she escape… she will never change.. Vennila asked to eat… Muthurasan refused.. she feed fruits… at that time parrot came and sit in front of balcony..
Vennila asked Muthurasan to catch that… Muthurasan tries to catch but Swetha flu away and said i am here to catch you.. don't try to catch me…
the latter, the priest arrived family came in front of the priest… Vennila give the Swetha horoscope to the priest… the priest said don't search her… she will come… one day… Muthurasan said before marriage she will come… The priest said she come afterwards.. the marriage won't happen… Muthurasan asked what is the solution… The priest asked to conduct one function immediately… so that all problem will solve and went..
Muthurasan asked Nilambari to conduct Karthik marriage.. Nilambari said first search Swetha then we talk about marriage afterwards… Janani scold her and asked to do marriage … Nilambari said I do like Simbaran… I won't marry with her..
with this the episode ends…