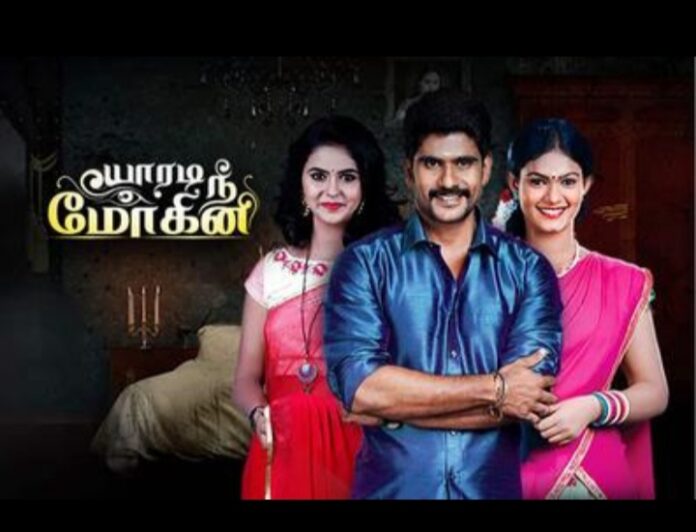 Yaaradi Nee Mohini Upcoming Story, Spoilers, Latest Gossip, Future Story, Latest News and Upcoming Twist, on Justhowbiz.net
Today the episode begins with The lawyer and former MLA are waiting for Muthurasan at his house. Vennila offers a coffee for them. Vennila informs them that he is coming. Poongothai informs Swetha about their arrival. Swetha and Poongothai come to the spot. Swetha welcomes them.
She talks to them and tries to find out why they have come. The Former MLA is going to say, suddenly Muthurasan comes home. Muthurasan welcomes the lawyer and Former MLA.
The lawyer tells Muthurasan that the pending land case is coming up in your favor. He says we have a chance to win the case. They are willing to give up the land. Muthurasan and the family become overjoy to hear that. Muthurasan could not believe it. The lawyer tells Muthurasan to get ready to sign. Swetha looks at Poongothai. Poongothai says to Muthurasan that this happened because of Thiruthani's luck.
Muthurasan tells Poongothai to be quiet. Muthurasan tells the lawyer to arrange everything. The lawyer leaves the home.
Maruthu comes to the spot. The family stands at a distance and listens to the conversation. The former MLA tells Muthurasan to stand for MLA post. Muthurasan refuses. The former MLA urges him to stand for the MLA post. Muthurasan is adamant about his decision. The MLA tells Muthurasan to reconsider his decision.
Swetha considers Thiruthani to be good luck when Muthurasan wins a case and chance of getting an MLA seat. She says to Muthurasan too. Muthurasan lashes out at Swetha. Swetha tells him to accept this is happening because of Thiruthani. Muthurasan insults Swetha when she insists. Maruthu and Poongothai talk in favor of Swetha. Muthruasan insults them and leaves the place.
Muthurasan is upset with Swetha's behavior. Vennila comforts Muthurasan. Vennila advises him not to take it to mind. Muthurasan says she is torturing me. Vennila says Muthurasan that I believe you. Muthurasan gets emotional to hear it. On the other hand, Kalpana calls Swetha. Swetha didn't take the call. Later, she picks up the call. Kalpana demands money from Swetha. Swetha has no intention of giving money. Kalpana threats Swetha. Swetha goes with the money and the gun. Kalai, Simbaran, Janani are upset with Swetha's behavior. Kalai says as fortune-teller said everything is happening. Swetha goes with the bag. Kalpana calls Swetha. Swetha bag falls. Kalai, Simbran, Janani notice the money. Kalai suspects Swetha and follows her.
Kalpana is waiting for Swetha. Swetha comes to the spot. Kalpana asks for money from Swetha. Kalpana shows her gun and threatens Kalpana. She is not afraid of it. Kalpana expects five lakh from Swetha. Swetha gets shocked. Maruthu beats her from her back. Kalpana faints. Swetha and Maruthu kidnap Kalpana for threatening Swetha.
Kalai, Simabran, Janani follow Swetha's car from the auto. Kalai urges automan to follow the car. He missed the car. Kalai, Janani, Simbaran get down from the auto and looking for Swetha's car. Kalai notices and shows the sign to stop the car. Kalpana makes a sound. Kalai suspects Swetha.
with this, the episode ends..