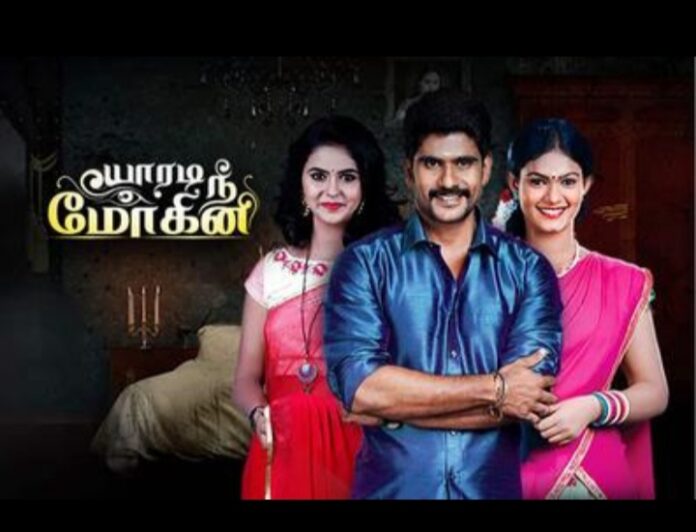 Yaaradi Nee Mohini Upcoming Story, Spoilers, Latest Gossip, Future Story, Latest News and Upcoming Twist, on Justhowbiz.net
Today the episode begins with Arjun suggests an idea to Muthurasan. Arjun tells Muthurasan to marry Swetha. Kalai, Simbaran, Janani, Karthik disagree with his suggestion. Arjun tells that now we have to save Vennila and her babies. Karthik says this is not a fair solution for this issue and lashes out at Arjun. Muthurasan's family argues with Arjun. Muthurasan asks them to be quiet. Muthurasan tells the family to obey his decision. The family reminds quietly.
Suschitra, Nakshatra, Indra, Meenakshi, Anand are selecting saree for Anand's wedding. Gandhimathi, Inya, Illakiya are sitting on another side. Indra is eagerly waiting for Elamaran. Gandhimathi tells Inya that when will Elamaran come. Suschitra selects a red saree and shows it to Nakshtra. Anand looks at Meenakshi sadly. Nakshatra asks Meenakshi if this saree suits me. Meenakshi says this saree suits you, she suggests her to wear this saree for the reception. Anand gets angry.
Nakashtra selects the red saree. Suschitra asks Nakshtra and Anand to stand together and get the saree. Anand and Nakshtra stand together. Gandhimathi, Inya, Illakiya fume when Anand stands with Nakshatra. All of the sudden, Elamaran arrives. Gandhimathi becomes overjoy.
Anand and Meenakshi are shocked. Elamaran lashes out at Suschitra. Gandhimathi tells Elamaran to take her sister. Anand tells Meenakshi not to go. Meenakshi doesn't know what to do. Elamaran drags Meenkashi. Arjuns stops Elamaran and pleads to him. Arjun tells Elamaran to leave Meenakshi here. Elamaran argues with Arjun. He drags Meenakshi.
Meenakshi pretends before Elamaran. Elamaran gets shocked and questions Arjun and Suschitra. Suschitra tells that she was hit in the car, she loses her memory from that. Elamaran in fit of rage. Elamaran warns them by saying that I want my sister back and leaves home.
Swetha becomes overjoy and tells Maruthu that Muthurasan is no other way to save Vennila and smiles. Muthurasan phones Swetha and asks her to meet him. Swetha is on cloud nine. Meenakshi feels anxious. Anand comes near and pours out to Meenakshi. Meenakshi pretends to him. Anand looks at Meenakshi and says you are acting I know that. Meenakshi gets shocked.
Anand threatens Meenakshi. Meenakshi doesn't know what to do, so she comes out of the room. Suschitra overhears the conversation and feels for Meenakshi. Suddenly, Arjun arrives before Suschitra. Arjun asks Suschitra are you happy now. Anand loves Meenakshi, why do you refuse to accept her. Arjun speaks for Anand to Suschitra. Suschitra reminds quiet and tells him to distribute the wedding cards. Arjun accepts.
Swetha meets Muthurasan. Muthurasan asks Swetha to show the children. Swetha says first you marry me then I will show the children. Muthurasan asks her to show the children first. Swetha agrees. Swetha tells everything to Nambothri. Nambothri suspects Muthurasan. Swetha brings the children. Muthurasan asks her to leave the children. Swetha tells him to tie the knot first. Muthurasan says that I will marry tomorrow.
Swetha agrees. Muthurasan asks Rudra to touch Vennila's stomach. Vennila doesn't know any movement. Later, she observes a movement. The family is on cloud nine.
With this, the episode ends…