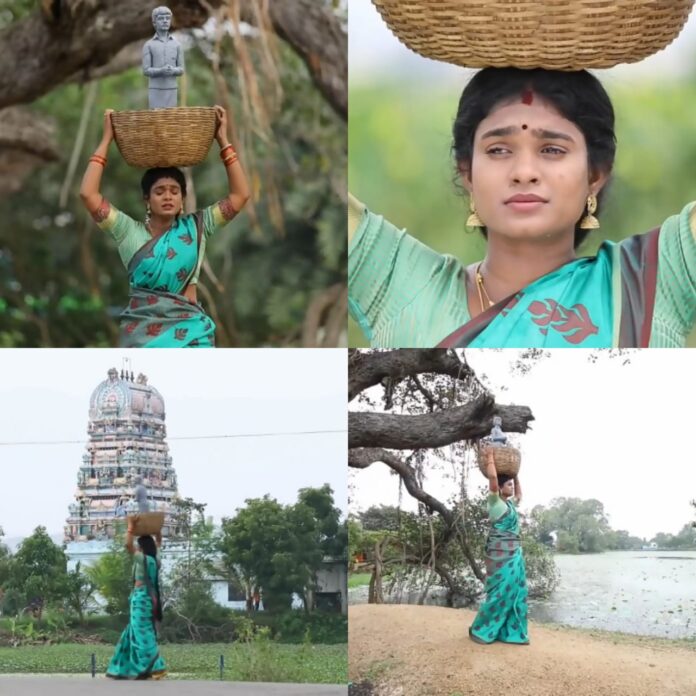 Yaradi Nee Mohini Spoilers, Latest Gossip , Future Story, Latest News and Upcoming Story on Justshowbiz.net
Today the episode begins with…. Nambothri chant mantras and create Nagakani to spoil Vennila plans…. Nambothri asked Nagakani to monitor Vennila and asked to spoil her plan… Nagakani agrees and left….
Nambothri said I will see how she save that Karupanaswamy…. and gleed… Vennila carry Muthurasan stone in his head and walk towards temple…. there she noticed one priest… she kneeled down before that priest and said that this is my husband… one Nambothri turn into stone… please help me…
Priest in the meditation…he won't open his eyes… Vennila cries and asked him to help…. please help and scream terribly…. Priest opened his eyes… and said knowingly or unknowingly you arrived to this temple.. this god will surely help you… go and pray to that God… and blessed Vennila..
Vennila feels thirsty.. so she went and drink water… at that moment… Nagakani sat in the Muthurasan statue… Vennila shocked…. and asked Nagakani to go…but Nagakani won't go…. she tries to touch… Nagakani tries to bite her… Vennila take a stick to remove Nagakani… but its not possible to remove…
The latter, she throw the stick and kneeled down and asked Nagakani to leave… and said this is my husband… I have to change to normal form… please go… and cries… I will do anything for you… please go… and cries…
Nagakani won't go… Vennila scream terribly and said bite me… please leave him..and cries… Nagakani appears in front of Vennila.. and said this is mine… I sat on his head… so hereafter this is my property…. Vennila cries and said this is my husband… Nambothri change into stone…and cries… Vennila said bite me… take me… leave him….don't do anything… bite me…
I am here to save Muthurasan… don't stop me… take me… I will change him and I will surely come to your place… you take me… and cries..Later, she promised in her Thali. . Nagakani left… Vennila take Muthurasan stone to temple… On the other side, Nilambari asked Swetha to eat… Swetha said how will I eat… now this Kalai cured… if she reveal the truth…
Police will arrest everyone… Poongothai asked Swetha what are you telling… Swetha said now Kalai cured.. if she reveal the truth… that all… Swetha asked Maruthu to act as a husband and learn whether she got memory.. Maruthu agrees…
Karthik and others worried of Vennila and Muthurasan.. Simabran said first we have to take that stone and we have to save Muthurasan… Gowtham said how this possible… Kalai said I will bring that… Karthik said how this possible.. Kalai said I will act as a wife and bring that…
In the temple… Everyone looked at the Muthurasan Statue and shocked… The priest said believe this god… this god will surely help you… walk in the salt… Vennila agrees… The priest asked Vennila to pray… Vennila pray to god that I will walk in anything… please save Muthurasan….
with this the episode ends….