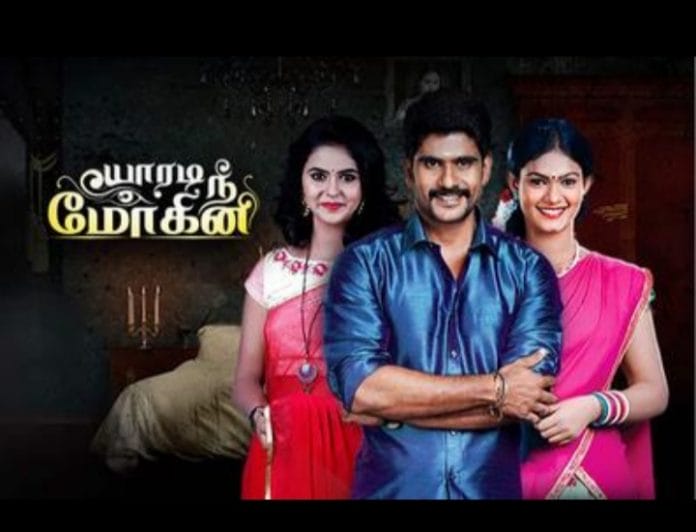 Yaaradi Nee Mohini Upcoming Story, Spoilers, Latest Gossip, Future Story, Latest News and Upcoming Twist, on Justhowbiz.net
Today the episode begins with….. Swetha bring Nambothri to home… Maruthu bring him from back side of the home… Swetha, Nilambari, Maruthu bring him….
On the other side, Vennila asked Muthurasan to pray before Chitra…. Vennila, Muthurasan arrives to Chitra room… Vennila urged Muthurasan to pray… Muthurasan pray before Chitra by saying….please send out from my body… Vennila scared….please go out me…. while praying….she smell some new things…
Chitra's spirit arrived in Muthrasan body and said after my death…I arrange a marriage…. and I give children….but you asked me to leave from Muthurasan… Vennila said you told that you are going to kill Swetha…. that is not correct… so that I asked to leave…
Chitra said she won't allow to live happily… she will constantly disturb you… Vennila said don't kill her… Police will punish Muthurasan… please leave from Muthurasan… Chitra said she will kill you…. don't save her…. Chitra said I will kill her… she smell and said some one arrived…. I have to stop that…
Vennila pleased Chitra… Chitra said please don't stop me…. there is some danger….Chitra asked Vennila to get up… Vennila get up…. Chitra asked her to sit quietly.. Chitra went out…. and locked the door… Vennila asked to open… but Chitra won't….Vennila screams terribly and stand near the Chitra photo…
Swetha showed a room…and said as per our plan first kill Vennila…so that I will divate Chitra…. Nambothri take a small pot from his bag… Chitra smell and search the Nambothri everywhere….
Nambothri opened the pot and take a ashes and spread all over his body… Swetha asked what happen…what is this… why are you coating all over the body…. Nambothri reminds quiet and coating his body with ashes….
Nilambari asked why are you remind quiet…. why are coating this in your body…what is this… Nambothri said this is grave ashes… Nilambari asked why are you coating this all over a body… Nambothri said Chitra will smell me…to escape from her…I am coating this all over the body…
This is hide me…. only you can see me…but Chitra won't see me…but hide myself I coating this ashes all over the body…
Muthurasan arrives….Nilambari and Swetha stunned… Swetha asked what are you doing without sleeping…Chitra smells and walk towards Nambothri…Nambothri move backwards… Nilambari said this ashes is helpless… Nambothri hide himself…
Chitra spirit smell and walk towards Nambothori.. she noticed calendar….she take pencil and mark the date and walk towards Swetha… Swetha asked what you marked… Chitra said that is the last day for you…and went… Swetha tensed….Nambothri escape from Chitra hand…
Next day, Janani, Kalai, Simabaran search Vennila everywhere…. Vennila arrives… Kalai asked where you went… Vennila said I visit a priest…Kalai said why suddenly …… Vennila said to send Chitra spirit out of Muthurasan… I visited the priest…
Kalai, Simabran, Janani said why should we send Chitra… Vennila said she tries to kill Swetha…so that..Simabran said no wrong in that…why you stop this… Vennila said I am going to do puja..come with me and went..Swetha recall the date and tensed.. Nilambari console Swetha.
with this the episode ends….