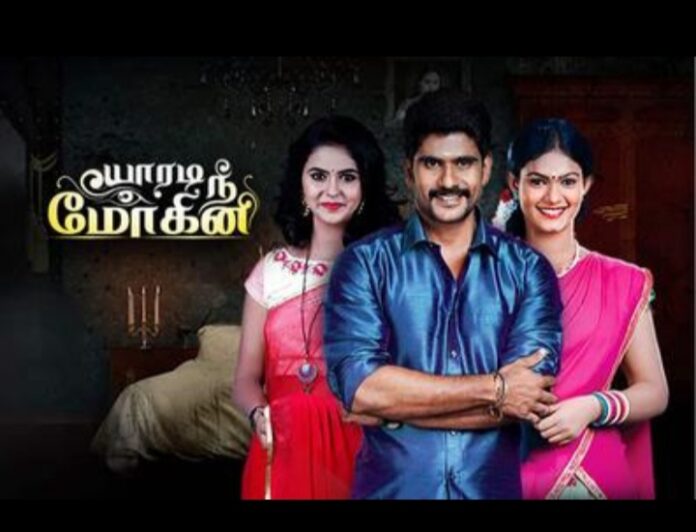 Yaaradi Nee Mohini Upcoming Story, Spoilers, Latest Gossip, Future Story, Latest News and Upcoming Twist, on Justhowbiz.net
Today the episode begins with Bharani threatens Swetha. Swetha gets tensed when Bharani threatens. Kalai takes Thiruthani to Vennila's room to breastfeed. Swetha calls Maruthu to her room to inform him about Bharani. Kalai notices Swetha and asks Thiruthani from Vennila. Vennila says he is in hunger. How can I give now? Kalai makes Vennila feed Thiruthani. She gets tensed with Bharani and informs Maruthu. Swetha notices the cradle. Swetha says Thiruthani is missing. Swetha suspects Vennila and rushes towards Vennila's room to get Thiruthani.
Kalai's smart move. Swetha rushes angrily towards Vennila's room. Muthurasan plays with Thiruthani. Swetha becomes happy to see Thiruthani with Muthurasan. Swetha comes down to get Thiruthani. Muthurasan asks Swetha where did you go, Thiruthani cries alone in the room. Swetha gets Thiruthani from Muthruasan. Vennila and Kalai heave a sigh of relief. Swetha takes him to her room.
Swetha senses the milk smell on Thiruthani. Swetha suspects that Vennila breastfeeds Thiruthani. At that moment, Bharani calls Swetha. Maruthu picks the call. Swetha tells him to put the call on the speaker. Bharani urges Swetha to come soon. Swetha talks too much. Bharani threatens Swetha. Swetha handovers Thiruthani to Poongothai and leaves the home to meet Bharani. Bharani is waiting for Swetha. Swetha and Maruthu meet Bharani. Swetha takes Bharani along with them to show Kalpana's whereabouts. Bharani believes and goes along with them. Bharani threatens Swetha while going. Swetha and Maruthu plan to kill Bharani. As per their plan, Maruthu stops his car and pretends that it not working.
Swetha and Maruthu get out of the car. Swetha pretends before Bharani that she is speaking with someone. Maruthu pretends in front of Bharani. Bharani scares and calls Swetha. As per Swetha's plan, a lorry bang Bharani. Bharani dies right there. Swetha heaves a sigh of relief when he dies. Both leave the spot.
On the other hand, Muthurasan makes an appointment with the doctor to find the truth behind Thiruthani's birth. Muthurasan meets the doctor. Muthurasan asks the doctor about Thiruthani's birth. The doctor informs Muthurasan that she has not seen the childbirth to Vennila. Muthurasan shocks to hear that. The doctor says to Muthurasan that Dr. Meenaka saw the delivery to Vennila. Muthurasan suspects that there is something wrong in Vennila's delivery. Muthurasan asks the doctor why you went. The doctor says I received a call that my husband with an accident, so I went. But that's fake news.
Muthurasan suspects Swetha and gets Dr. Meenaka's address from the doctor.
Gotham and Janani are following Muthurasan. Later, they miss him. Muthurasan comes to Dr. Meenaka's house to find the truth. Dr. Meenaka fears the worst after seeing Muthurasan. She avoids him. Muthurasan goes inside and inquiries about Thiruthani to Dr. Meenaka. Dr. Meenaka fumbles when he questions. Muthurasan tries to get the truth from Dr. Meenaka. Dr. Meenaka tries to hide the truth from Muthurasan. Muthurasan threatens Dr. Meenaka. Meeanka fears the worst.
with this, the episode ends…