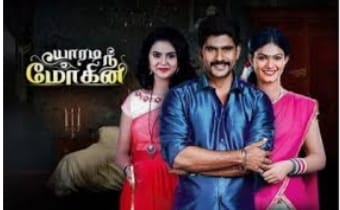 Yaaradi Nee Mohini Upcoming Story, Spoilers, Latest Gossip, Future Story, Latest News and Upcoming Twist, on Justhowbiz.net
Today the episode begins with Maruthu make a phone call to Swetha.. Nilambari asked Swetha to put the phone on speaker.. Maruthu informed that I saw Vennila in a shop.. Nilambari screams and asked him to catch her… he said I tries to catch her but she escaped from my eyes.. and then he said she brought a whip and a sword to offer Karuppuannanswamy.. Nilambari, Swetha became shocked and speechless.. Maruthu informed that and said I will search her and ends the call..
Nilambari, Swetha, Poongothai, Veera are sitting together and discussing how this Vennila became brave.. I this she is crowd… but now she acts bravely.. Swetha said I think this Vennila guiding to Karthik.. Nilambari disagrees and said Karthik searching Vennila everywhere…. how come he know… I think someone guide him… we have to find that person.. Later, all left…
Janani, Gowtham, Rudra. Karthik are sitting together and chatting about Appu.. Suddenly Appu arrives near them… Karthik thanked Appu and said became of your prayer this Swetha plan is stopped.. Appu said I received a phone call from the priest… he informed that your mud horse is ready.. he sent me the photo of that mud horse…
 Appu showed to Rudra.. she said its good… Appu said we have to bring this mud horse to home and we have to do pooja after that we have to take it to temple..  Karthik said you are more interested than us.  Appu smiles and said I brought sword and a whip… Karthik appreciate him.. then All went…
Suddenly Doctor arrives to the home… Nilambari and Swetha welcomed him and call Muthurasan.. Appu went and bring Muthurasan to hall. Janani, Gowtham, Rudra, Karthik came to hall..  Karthik welcomed Doctor..
 Later, Doctor examine the Muthurasan and said you have lot of imrprovement in your vision.. and said you will get the sight soon.. Janani, Gowtham, Rudra, Karthik, Appu became happy.. Nilambari and Swetha became shocked and speechless..
The doctor announces an improvement in Muthurasan's Vision..
Swetha gets shocked on hearing the doctor's statement. Muthurasan said after ties the scared thread of Karuppuannanswamy I got a good news.. and said we will go to the temple and do the pooja.. Later, Appu take Muthurasan to room..
Nilambari and Swetha became confused and shocked after the doctor statement.. Swetha laments by saying if he got the vision.. our plans will spoiled.. and showed the poison bottle to Nilambari and said I will kill Muthurasan.. and I will die.. Nilambari convince her by saying why are so scared? your target is to marry Muthurasan.. Concentrate on that.. Don't bother about anything.. Later, Swetha left the room..
Karthik arrives in front of Swetha and teased her… Swetha became anger and quiet… Later, Janani, Gowtham, Rudra arrives near Swetha.. Karthik call Appu and said hereafter we are going to eat only vegetarian.. Arrange accordingly..
Appu prepare veg-briyani for them.. Swetha hatches a plot to ruin Karthik's fast..
With this the episode ends…