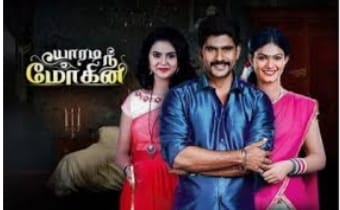 Yaaradi Nee Mohini Upcoming Story, Spoilers, Latest Gossip, Future Story, Latest News and Upcoming Twist, on Justhowbiz.net

Today the episode begins with Janani, Gowtham, Karthik, Appu are dressed up nicely and arrange everything for special puja.. On the other side, Swetha and her friends, Nilambari, Maruthu, Veera, Poongothai are looked at them…. and laughs..

They kept sword, whip and Karuppuannanswamy dress and prays.. Janani asked why this dress… Karthik said Muthrasan have to dress up like Karuppuannanswamy… Swetha and her friends chatting and lughs by saying our puja will spoil…. Appu became upset of mud horse..

Karthik gave that Karuppuannanswamy dress to Appu and asked him to put for Muthurasan.. Appu went into the room.. All are waiting eagerly outside to see Muthurasan in Karuppuannanswamy costume..

Muthurasan dresses as "Karuppuannanswamy" to perform special puja…. Later, he went out of the room.. Janani said you are looking like god Karuppuannanswamy.. Muthurasan laughs and enquire Karthik when will the horse come… Karthik said it's time they will come…
On the other side, Nilambari asked Swetha did you break clay horse… Swetha said yes we break it…. we are going to win.. Later, Swetha call Appu and asked him to bring the wedding bag.. Appu became upset and prays to Karuppuannanswamy..
Suddenly a loud music heard all eagerly looked at the entrance… The priest and the volunteers arrived…. Karthik informed about the arrival to Muthurasan… Azghappa shouts by saying priest brought the mud horse.. Swetha and Nilambari went near to see… what is happening… The priest showed the mud horse to everyone…
Maruthu, Swetha, Nilambari, Poongothai, Veera became shocked when the priest shows the mud horses… Swetha became speechless… Appu became overjoyed after seeing mud horse.. and he thanked Karuppuannanswamy…

The priest apologize for being late…. and said someone steal the sample mud horse… Swetha and her friends murmurs.. The priest said that who stole the mud horse will surely punish by the god Karuppuannanswamy I kept your horse inside the room so that it was saved.… Swetha and her friends afraid… of Priest speech…

Appu thanked Karuppuannanswamy for saving this mud horse.. Priest asked shall we start the puja… Muthurasan and the family agrees.. The priest starts the puja… Priest draw a eyes for horses… and asked the family members to pray… Appu pray to Karuppuannanswamy that Muthurasan will get sight soon.. So that all the dramas will come to end… please help me in all circumstances…
The priest prays to Karuppuannanswamy and kept one mud horse in Muthurasan head… and kept one mud horse in Swetha head.. Appu became upset and prays to god that this mud horse should in my head but she is having in her head. Please help me.. The priest instruct that we have to take this horse to temple…. All agrees…
Muthurasan performs the special puja…
with this the episode ends..