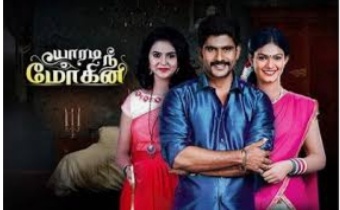 Yaaradi Nee Mohini Upcoming Story, Spoilers, Latest Gossip, Future Story, Latest News and Upcoming Twist, on Justhowbiz.net
Today the episode begins with Maruthu search Vennila everywhere… Swetha asked Maruthu to search in Muthurasan room… Maruthu went and search and inform to Swetha that she is not there… Muthurasan is sitting in his room…
Nilambari said she won't go anyway… go and search properly…Maruthu searched and said Muthurasan is not there… Nilambari and Swetha became shocked and said where he take him… Swetha said she escaped somewhere….Nilambari, Swetha, Maruthu standing confusingly….
Nilambari said she won't go any where… if will find it… she asked to bring her phone…Maruthu went and bring her phone…
on the other side…. Vennila and Muthurasan on the way to temple.. Muthurasan appreciated Vennila driving… And asked did Appu come… Vennila said no… Muthurasan said Appu is a good boy… yesterday he faints… what happen I don't know… Vennila speak to herself that I am Appu..
The latter, they reached temple… Vennila asked Muthurasan to wait… Vennila went to change her custom… Nilambari phone Muthurasan and asked where are you..
Muthurasan said we arrived to temple… Nilambari ends the call… and urged Maruthu to take the car…
Vennila and Muthruasan prays to god… Vennila prays to god that Muthurasan will recover soon.. Muthurasan prays to god that he want to see Vennila soon… later, they put tribute to the god for twin babies…
Muthurasan asked what happen suddenly arrival to temple… Vennila speak to herself that as per your wish I blessed with twin babies… I want to share this to you.. but if I tell Swetha will do something… Muthurasan asked her are you here… Vennila said I am here… Vennila went out to change her custom…
On the other side… Nilambari and Swetha urged Maruthu to go fast… Maruthu said I. am going fast… please don't urge me… Nilambari said this is the chance if we miss her… then it difficult to catch her…
Vennila arrives to car to get the dress… at that moment Swetha, Nilambari, Maruthu came in front of her… Vennila became shocked and speechless… Swetha stares her angrily… Nilambari looked at her and said today you can't escape from us… this many days you fooled me… but now its not possible…she asked Maruthu to catch her… And asked Swetha to go inside…
Nilambari and Maruthu catched Vennila… Swetha went to temple and sit next to Muthurasan .. Muthurasan asked what is your prayer… she reminds quiet…
The latter, Swetha bring Muthurasan to home… Karthik, Janani, Gowtham distribute the invitation and reach home… Karthik said how Swetha will accept the marriage… she is planning something.. Azghappan said yes… she is planning something… at that moment Swetha arrives with Muthurasan…
Muthruasan asked her to bring coffee.. Swetha went inside.. Muthurasan asked Azghppan to call Ranjitha to discuss about dowry… Azghappan said its your wish…
Karthik tease Swetha… Swetha said first go and find Vennila… then you tease me…
On the other side… Vennila hands and legs tie… Nilambari and Poongothai teased her…
with this the episode ends..