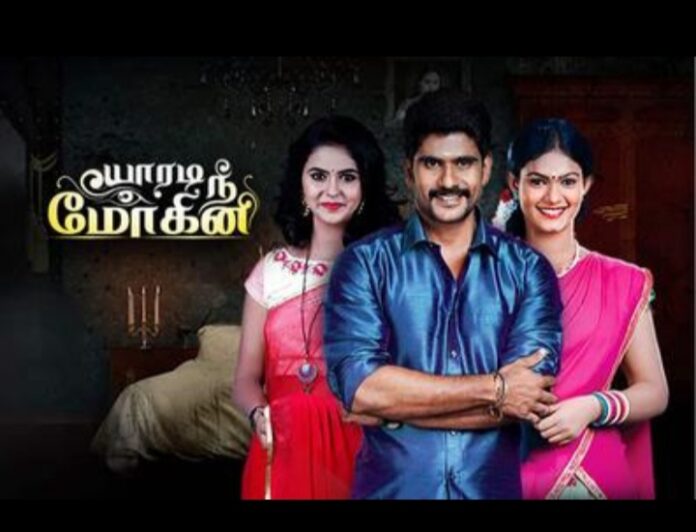 Yaaradi Nee Mohini Upcoming Story, Spoilers, Latest Gossip, Future Story, Latest News and Upcoming Twist, on Justhowbiz.net
Today the episode begins with Rudra, Uthra going for at merry-go-round ride. During the ride pen drive falls down from Rudra's pocket. Muthurasan tells Karthi to look for a place to stay. Karthik agrees and goes to find a hotel to stay. Anand is upset. Arjun comforts Anand.
Vennila, Kalai,Janani, Simbaran buying bangles. Swetha plays a shopkeeper in disguise. Simabran says someone is behind this drug case. Simabran suspects Swetha. Swetha plans to trap Muthurasan, but Simbaran guesses that Karthik is trapped. Janani, Kalai accept Simbaran.
On the other side, Vasu, Nakshtra, Indra,Suschitra buying bangles. Suschitra asks the Shopkeeper to show new model. Vasu moves on to the next store.
Vasu meets Vennila. Vennila introduces Kalai, Simabran to Vasu. Arjun, Anand meet Muthurasan. Muthurasan asks Rudra, Uthra to get down. Vasu takes Vennila to Suschitra. Suschitra inquires about Muthurasan. Arjun, Anand bring Muthurasan. Suschitra meets Muthurasan. Swetha overhears the conversation.
Vennila says we came here to perform ritual. Muthurasan says we could not finish the ritual. The priest insists to complete the ritual. So we decide to stay for a week. Suschitra tells Muthurasan about Anand, Nakshtra's marriage. Muthurasan is happy to hear of Anand's marriage. Muthurasan congrats Anand.
Suschitra invites Muthurasan to Anand's wedding. Karthik, Gowtham arrives. Muthurasan asks Karthik have you seen any hotel to stay? Suschitra invites Muthurasan to stay at her house. Muthurasan hestitates.
Vennila says we are more in number. Suschitra urges Muthurasan to stay in her home. Muthurasan agrees. Nakshtra is worried about marriage. Indra Rani comforts Nakashtra. Suschitra arrives. Nakasthra shares her grief with Suschitra.
Suschitra comforts Nakastra by saying that Anand will marry you. I appoint my brother Ema Raja to take care of this marriage. Ema raja meets Suschitra. Suschitra introduces Raja to the family. Vasu stares at Raja. Suschitra introduces Vasu to Raja.
Suschitra tells Anand and Nakashtra to seek blessing from Raja. Raja blessed them. Raja says I will take care everything, if anyone tries to stop, I will shoot them. Vasu smirks at Raja. Raja takes out the gun and threatens Vasu. Later, Someone puts the gun to Raja's head. Raja is scared. Slowly he turns. Rudra threatens Raja. Raja gets tenses. Suschitra introduces Muthurasan to Raja.
Meenakshi arrives to Anand's home town. Meenakshi is looking for Anand. Anand, Vasu, Arjun, Muthurasan arrives to temple. Vasu says Anand loves Meenakshi. Suschitra is not ready to accept Meenakshi because she is disabled. So she refuses her. She is planning the wedding of Anand and Nakshtra.Arjun says that we are trying to prevent this marriage, but we are not doing so.Arjuna asks Muthurasan for help.
Muthurasan agrees to help. Suschitra, Nakshtra, Indra arrives to temple. Meenakshi is looking for Anand. She notices Anand's sandals outside the temple. Suddenly some one wears those sandals and walk away, she fed up and goes.
Suschitra asks the priest to pray the thali. The Priest asks Anand to touch the thali. Anand hesitates. Later, he touches the thali. The priest prays to god with thali. Thali falls down from the neck of god. No one notice that. Vennila brings Rudra, Uthra near merry-go-round to search pen drive.
Vennila is looking for a pen drive.
with this the episode ends.