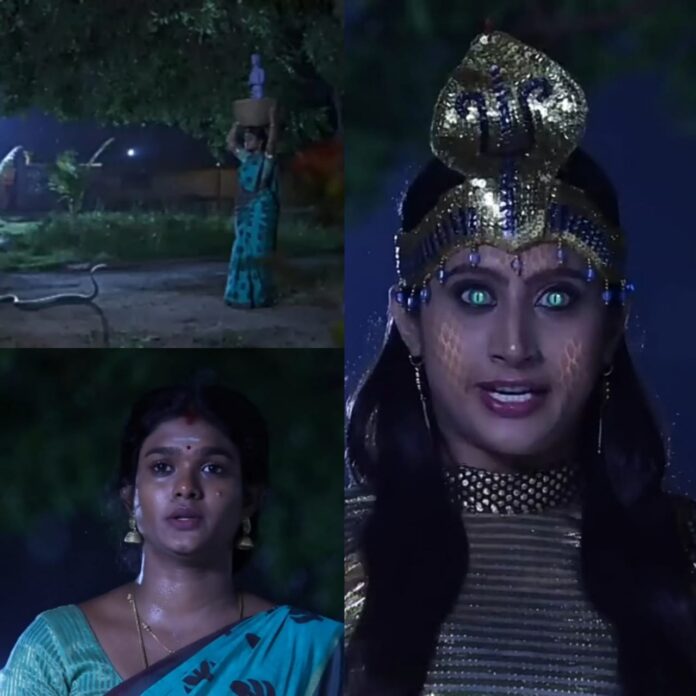 Yaradi Nee Mohini Upcoming Story, Spoilers, Latest Gossip , Future Story, Latest News and Upcoming Twist on Justshowbiz.net
Yaaradi Nee Mohini is a drama series that spins around Muthurasan, a widower, Chitra, his deceased wife and Vennila, a village girl. Nilambari, Muthurasan's stepmother wanted him to remarry a girl of her choice in order to acquire his property. But Muthurasan marries Vennila, who loves him from the bottom of her heart. Nilambari tries her best to harm Vennila, but Chitra spirit protects Vennila every time…Muthurasan is unaware of Nilambari evil plans..
In the previous week …
Nambothri suspects Muthurasan when Swetha informs him about his absence. Meanwhile, Muthurasan finds Krishnan. Later, a drunk Maruthu raises a ruckus in order to stop the puja.
Muthurasan find the box… Chitra's spirit stop Nambothri… Muthurasan take the stone and walk towards Krishnan. Suddenly, snake bite him… Chitra's spirit inform to Vennila… Vennila cries and prays to god.
Vennila prays to the god for Muthurasan's wellbeing.. Nambothri keeps a close watch on Krishnan.. Muthurasan mixes sleeping pills in the sweet and offers it to Swetha.
Swetha swoons on eating the sweets offered by Muthurasan. Muthurasan reassures Vennila, as she shares her fear with him.. Later, Muthurasan gets trapped with Swetha and the Nambothri.
Police arrested Kalai, Simabran, Vennila… Swetha phone Nilambari and share her grief to Nilambari… Later, Police release Vennila alone… Nambothri kidnap Vennila and threatens her… Swetha urged Muthurasan to tie the knot… Vennila pleased Swetha… Nambothri turn Muthurasan in to a stone…
Vennila carries Muthurasan stone.. Karthik lashes out at Nilambari.. Karthik question Swetha.. Swetha share everything to Nilambari… Karthik and others eavesdrop everything and shocked… Ridra went out of the home..
In the latest episode… Nambothri chant mantras and call Nagam.. Nambothri asked to spoil Vennila plans… Swetha asked Maruthu to act… Kalai said I will bring the stone… Vennila perform puja to save Muthurasan.

In the next upcoming episode…Vennila on the way to temple… Nagam stopped Vennila and said I am going to bite you… Will snake bite Vennila?
Upcoming episode will answer it…
To know about further just stay with us…and find out what happens next….