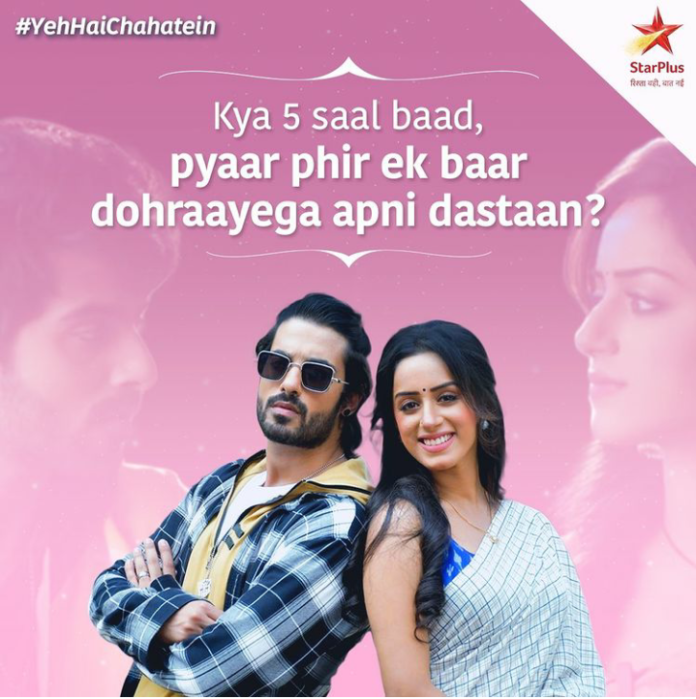 Yeh Hai Chahatein Upcoming Story, Spoilers, Latest Gossip, Future Story, Latest News and Upcoming Twist, on Justhowbiz.net

Episode begins with Ruhi brings a outfit for Rudraksh and tells him that she kept this for him. He notices that the outfit is glittery and asks her that if he has to wear this. She tells him that he don't have any other option. She recalls that how she planned to make Rudraksh wear glittery outfit like Preesha. She tells him to change saying that he will look dashing in this outfit. He comes out wearing the outfit. She compliments him. Preesha and Saaransh comes there. Preesha teasingly tells Rudraksh that he looks like her husband in this outfit. He tells Ruhi that he knows that she tricked him. Preesha defends Ruhi. Saaransh asks them to fight later because they are getting late for the engagement party.
Saaransh welcomes the guests. He says that he and Ruhi are happy that their parents marrying each other again. Then he welcomes Rudraksh and Preesha. Ruhi blindfold Rudraksh and Preesha and brings them to the stage. Rudraksh and Preesha gets surprised seeing the moon theme. Saaransh says that they have to exchange the rings by sitting on the moon. Rudraksh says that it's a dangerous idea. Ruhi asks him that if he is scared. He shook his head. He helps Preesha to sit on the moon on Saaransh's behest ( Shiddat song plays in the background ). He sits on the moon too. Preesha holds Rudraksh's hand when the moon started moving up.
Revati sees that and starts counting and the moon shakes because of the loosen bolts. Rudraksh and Preesha fall off the moon. Moon is about to fall on them but Rudraksh holds it to protect Preesha. Others goes to help Rudraksh. Preesha and Rudraksh gets up. They asks each other that if they are fine. Sharda asks that how it happened. Saaransh and Ruhi blames themselves. Rudraksh tells them that everything is fine.
He notices that Preesha is shaking and takes her to their room. He tells her that they are fine now. She gives the credit to him. She asks him that why he saved her. He tells her that he can't forgive himself if anything happened to her then. She hugs him. Their parents comes there. Rudraksh tells them that it was just a small accident.
Revati comes there and says that it was not an accident so she called the Supervisor for investigation. Rudraksh asks her that who will think to hurt them. Supervisor comes there. Revati scolds him for making a mistake. He tells her that it was an accident. She shows the bolt and tells him that it looks like someone loosen the bolt deliberately. She tells Rudraksh that it's well planned. She asks Supervisor to call his staffs. He nods at her and leaves the room.
Supervisor brings his staffs. Revati checks everyone's hands. She notices grease in one of the staff's hand and questions him. He tells her that Sharda bribed him to do this which shocks everyone.
Episode ends.
Precap – Revati checks the staff's mobile and finds Sharda's number. Later, Revati thinks that she will make them enemies for each other. Rudraksh tells Sharda that he checked the CCTV footage.
Click to read
Yeh Hai Chahatein 16th May 2022 Written Update: Revati plans to use Vasudha against Preesha